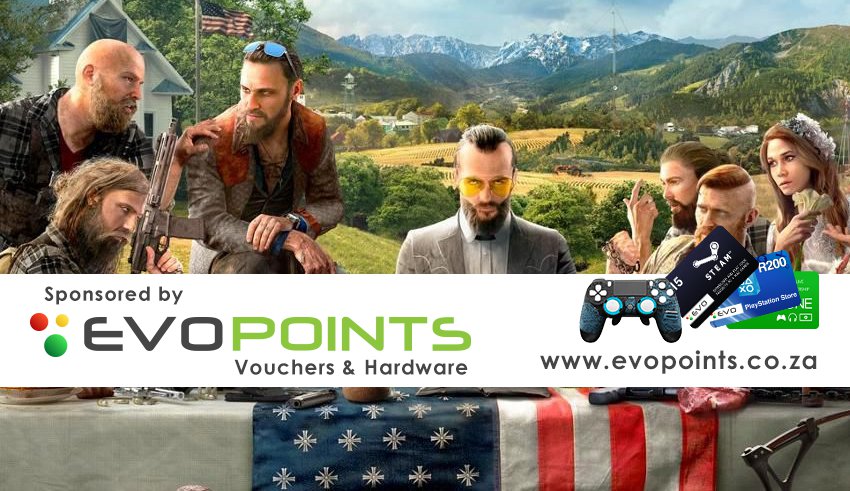 Welcome back to our weekly post of featured downloadable content available for different gaming platforms sponsored by www.evopoints.co.za. Here's this week's list of fresh downloadable games, content and specials.
If you would like to purchase vouchers, you can click the category headers to go straight to the appropriate page on evopoints.co.za
————————————-
PC Gaming — [Steam Vouchers Available]
Far Cry 5
MX vs ATV All Out, 10% off!
Steam Early Access – PixARK, 20% off!
Steam Early Access – Robocraft Royale
Yooka-Laylee, 66% Off
Steam Weekend/Daily Sales and Promos:
PlayStation — [ PSN Vouchers & Subs Available ]
PS4

Far Cry 5
MLB The Show 18
MX vs. ATV: All Out
Atelier Lydie & Suelle: The Alchemists and the Mysterious Paintings
bit Dungeon +
Bridge Constructor Stunts
Code: Realize Bouquet of Rainbows
Preta: Vendetta Rising PS VR
The Witch and the Hundred Knight 2
PS Vita
bit Dungeon +
Code: Realize Future Blessings
Reverie
To see all of the latest PlayStation content posts this week, click here for EU and US or check out the Online Sony Store.
Xbox — [ Xbox Live Vouchers & Subs Available ]
Xbox One

Far Cry 5
PixARK (Game Preview)
Injustice 2 – Legendary Edition
TERA: Founder's Pack
MX vs ATV All Out
LEGO Movies Game Bundle
LEGO Marvel Super Heroes Bundle
SALE: The Microsoft Store Spring Sale 
Xbox Live Deals With Gold – Check it out here
Xbox One – Hand of Fate, Cuphead, Assassin's Creed: Origins and More
Xbox 360 – Sniper 2, Blue Dragon, Valiant Hearts and More
iTunes App Store
World of Warcraft
For all your codes, vouchers and subscription needs head on over to www.evopoints.co.za to get whatever you need.
Last Updated: March 29, 2018