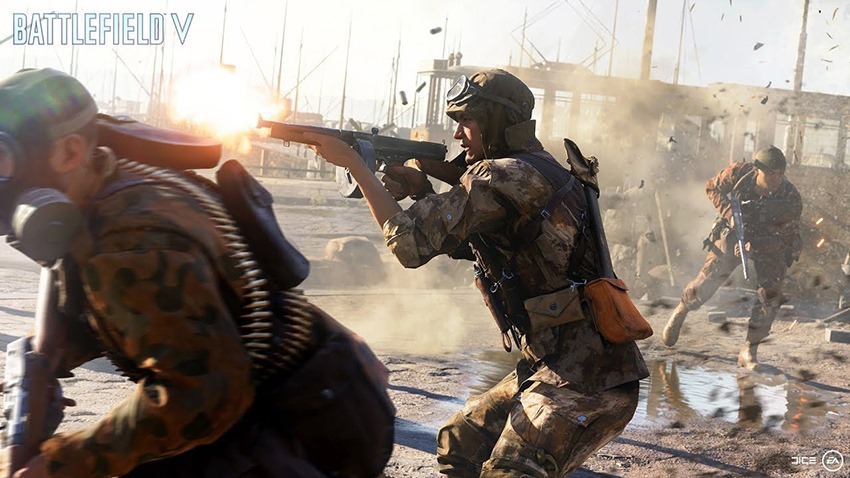 Battlefield V has not had a good time when it comes to previews. I'm specifically talking about trailers here, as I came away reasonably impressed with my hands-on time of the closed alpha. When it comes to slices of video showing off what the WWII-based combat shooter is all about though, EA and DICE have dropped the ball hard.
The first announcement trailer was an absurd misrepresentation of how the game actually plays as we got treated to cartoonish over the top action and drew a lot of justified backlash from the community as it flew directly in the face of the claims that BFV was going for a more authentic WWII feel. So for E3, DICE decided to ditch the scripted Michael Bay action mayhem for their multiplayer reveal trailer and just stick to pure gameplay. There was just the slight problem of this video not actually containing any real gameplay from the game's multiplayer and instead showed off snippets of its campaign. Oy vey!
And that brings us to today when, in anticipation of a big showing at next week's Gamescom gaming conference in Germany, EA and DICE have dropped a brand new trailer that shows off never-before-seen maps and gameplay "from the shattered streets of Rotterdam to the burning sands of North Africa". Let's see if this time around, they can actually deliver!
Well, damn. Now that's what you call a Battlefield trailer! Not only does it accurately show how off gorgeous this game is, with its destructible terrain and fancy effects, but it mixes together actual gameplay with pre-rendered visuals much better than before. And then there's that moment at 01:37 of the trailer.
If you don't know what you're looking at, that is the final "day" of BFV's new Grand Operations mode. Essentially the Battlefield franchise's answer to Battle Royale, this will see you and whatever other survivors there are from the previous three "days" of the match, thrown together into a smaller landscape with only the ammo and resources you have left and only one life in a gritty winner-takes-all squad-based battle to the death. And damn, I am stoked!
Battlefield V is set for release on 11 October 2018.
Last Updated: August 16, 2018