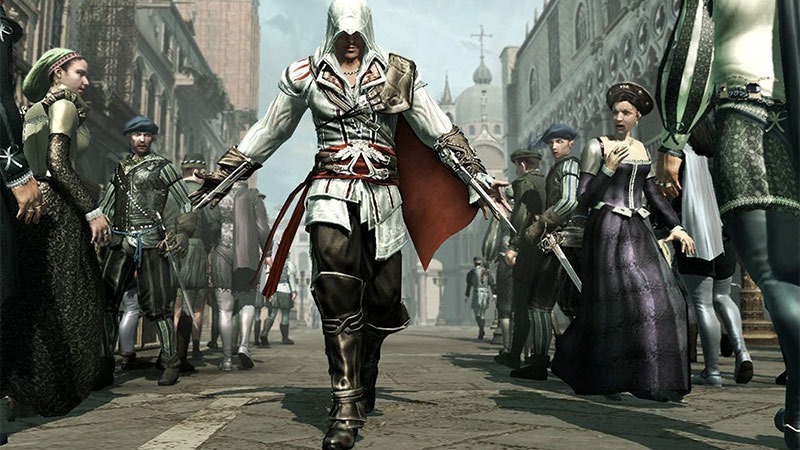 For many, Assassin's Creed as a series peaked (and also started its decline) with Assassin's Creed 2 and its associated games. The tale of the Italian lothario, Ezio, seems to have resonated best with most players –probably because he's such a charming, affable rogue. Ubisoft tried to tap in to that sort of character again with Syndicate's Jacob and very nearly succeeded – but for most, Ezio is still the best Assassin of the bunch.
The second game also gave us many of Assassin's Creeds best staples – like an upgradeable villa and some very, very light RPG mechanics. It was followed up by two unnumbered sequels that continued Ezio's story. Assassin's Creed Brotherhood, and Revelations – both of which added new features and content were pretty good games. That's if we forget about that weird tower defense stuff in Revelations, anyway. They also marked the beginning of Assassins Creed's perceived milking – with new games coming every damned year. I'm going on a bit of a tangent here, because the point of this mindless rambling is that it looks like Ezio is set to return.
According to a (now removed) Korean Ratings board (via VG247), the two current gen consoles are set to receive something called the Assassin's Creed: Ezio Collection. There's no word on what it may contain, but I think it's safe to assume that AC2, Brotherhood and Revelations would be included.
It would make sense, I suppose. For the first time in forever, there's no new Assassin's Creed this year, letting whichever internal studios are busy working on a new have a little more time to make it something special. Going back to where the series really took off might just be the thing to reignite people's passions for a series that's perhaps reached saturation point.
That said, the last one, Syndicate, was actually pretty good – and its just a pity that so many people were too fatigued to give it a shot. Although, with how much of a mess Unity was when it launched, I can;t blame anyone for tuning out.
Last Updated: August 19, 2016