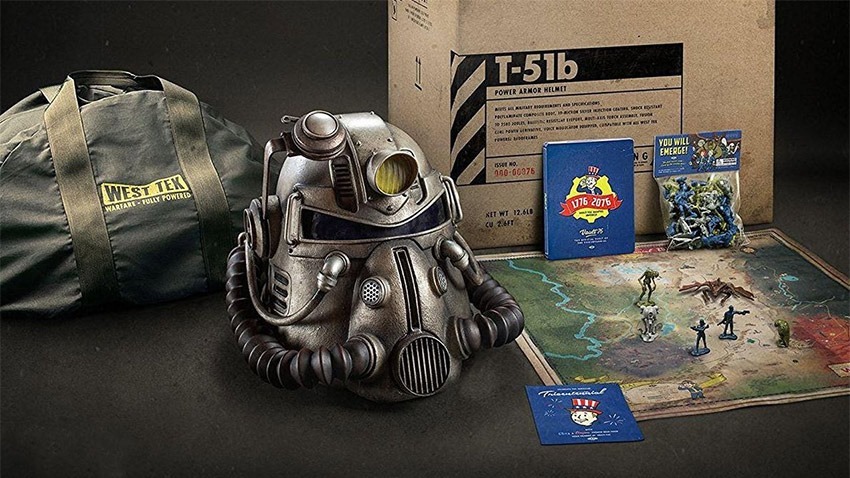 Bethesda's having a tough time. Fallout 76's reception hasn't quite gone the way they'd anticipated. Many long-time Fallout fans hate the game, and not just because it's filled with bugs. Bugs are the sorts of things you expect in Bethesda games, but the experiences are engaging enough to look past them. When the experience itself is lacking, it's a little harder to look past the fact that the game seems to be held together with duct tape.
Bethesda has acknowledged that the game isn't in the best state, and has outlined a roadmap for patching to make it a better experience for players. Now though, players are complaining about more issues. More specifically, people who bought the very expensive Collector's Edition are complaining that Bethesda's pulled a bait-and-switch.
Here's what the $200, R4000 Power Armour Edition was advertised to include:
Base Game w/ Tricentennial Steelbook: Exclusive to the Power Armor Edition, this decorated metal case is the ultimate collectible celebrating America's 300 years of freedom.
Full-Scale Wearable T-51 Power Armor Helmet with a Canvas Carrying Bag: This wearable helmet faithfully replicates the in-game model and comes complete with voice modulator speaker, functioning LED head lamp, and custom V.A.T.S. sound feature.
Glow-in-the Dark World Terrain Map: This physical, fully-colorized 21"x 21" glow in the dark vintage map showcases the six distinct regions of West Virginia complete with irradiated landmarks, towns, and wildlife.
24 Collectible Fallout Figurines: Crafted from in-game 3D models, these detailed miniatures bring Fallout 76's Vault Dwellers, Power Armored Soldiers, Creatures, and more to life.
Fallout 76 Tricentennial Edition Bonus In-Game Items: Celebrate 300 years of freedom with the all-new Fallout 76 Tricentennial Edition, commemorating the opening of Vault 76. Be the talk of the town when you emerge from Vault 76 fully prepared and patriotically styled in the new American frontier!
People who bought the CE got all of that, only the advertised canvas bag was instead made out of nylon, which is a cheaper, iffier material. After filing complaints about the material used, users say they've received a blanket message:
"Due to unavailability of materials, we had to switch to a nylon carrying case in the Fallout 76: Power Armor Edition," the response reads. "We hope this doesn't prevent anyone from enjoying what we feel is one of our best collector's editions."
After a little more outcry, Bethesda responded on Twitter:
We understand and respect that there is disappointment with the bag in the Power Armor Edition. We are sorry. Please contact Bethesda Support to provide proof of your CE purchase. They will assist in granting your account 500 Atoms.

Please visit: https://t.co/TJBMjYaph0

— Fallout (@Fallout) November 29, 2018
To make up for it, Bethesda is giving CE owners 500 in-game Atoms. Hilariously, as PC Gamer's Chris Livingston points out, that's not enough to buy the Fallout 76 postman skin…which comes with a digital canvas bag.
Ironically 500 Atoms won't even buy you the Fallout 76 postman skin that actually has a canvas bag (it costs 700) pic.twitter.com/UCN3kXYDmn

— Chris Livingston (@screencuisine) November 29, 2018
Last Updated: November 29, 2018