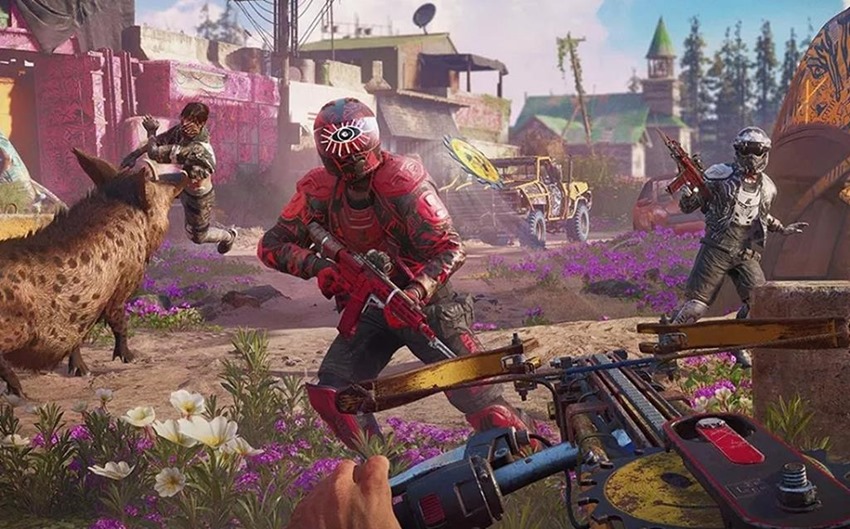 Interview by Paul Davies
Jean-Sebastien Decant, Creative Director
It's the end of the world, and I feel just fine, oddly enough. Civilisation is in ruins, new factions have risen up and on the plus side, at least the apocalypse managed to kill off most of humanity and the production of new episodes of The Simpsons. Life is good! And surprisingly authentic, as Ubisoft's replica of a post-apocalypse landscape has some actual science behind it.
"When we had that proposition, we contacted specialists in the US: two meteorologists, that had dedicated their lives to creating scenarios about nuclear winters," Creative Director Jean-Sebastien Decant explained.
They are working with the US government and the military to create wave scenarios, and look at how the US would respond to these kinds of problems. They helped to refine the proposition, which became the basis for our game.
With industry dead and resources scarce, you'll need to rely on more makeshift weapons to survive in Far Cry New Dawn. In fact, it's that very concept of customisation that will send players out into the wilderness, as they scavenge for the right parts to upgrade their arsenal of deadly tools. "We wanted to make signature weapons," Decant said.
[Therefore] it's more about acquiring a weapon with something specific that could help you for a certain type of challenge, or depending on how you like to play. Then, we have a different level of progression for these weapons. For example, with the Saw Blade, there are four different types. The first has one projectile, but it becomes more and more bombastic with three projectiles at the same time. You upgrade the weapon on the workbench at home base, and this will unlock new crafting possibilities.
This makeshift concept will also have an impact on the world around you, with some vehicles sporting some gnarly customisations as Decant revealed:
We focused on the Highwaymen vehicles, and their obsession with motorsport. There are new sidecars, new quads, there is also a trike with a mounted machine gun. There are a few surprises in store, but all the vehicles have been transformed by the makeshift approach.
Far Cry: New Dawn arrives on PlayStation 4, Xbox One and Windows PC on February 15. For more on the game and a sneak peek at some of the gameplay, click right here for more. Or if you want to read about how the enhanced AI should make things tougher for ya, well then here you go buddy.
Last Updated: December 12, 2018