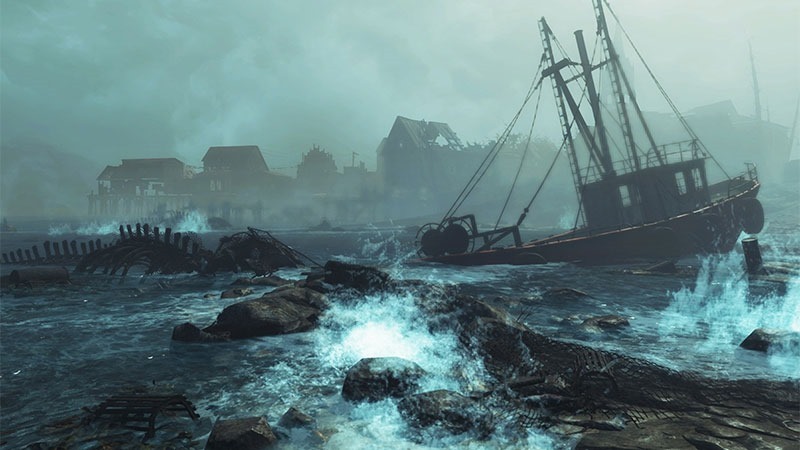 Last week, Fallout 4's second DLC, Far Harbor, was released on all of the platforms that are currently home to Bethesda's latest post-apocalyptic RPG. Unfortunately, it runs like complete garbage on the PlayStation 4 – spawning reddit threads and forum posts where people have gathered to complain about the game's horrible performance.
According to reports, frame rates can dip to the single digits – making the experience nigh unplayable for many. It's a little like the Corvega plant, before that performance was patched up. It all seems to have to do with the fog that permeates the atmosphere around Far Harbor; the thick and pervasive radioactive mist seems to be eating all of the PlayStation 4's CPU cycles.
"I played Far Harbor on my PS4 and after an hour I had to come off due to it being simply unplayable. You won't believe me when I say that my FPS must have dropped to as low as 3 or 5, but it's true. The first mission where Longfellow takes you to Acadia was impossible to fight anything, I'm assuming this is due to the way they render the fog and the lighting because places such as Acadia are fine. Annoyed me as this shouldn't happen on a console to this degree."
The problem doesn't seem to exhibit on the Xbox One, probably for two reasons; the Xbox One is running at a lower resolution, and the Xbox One's CPU has a tiny bit more juice.
Bethesda has acknowledged the issue and has said it's working hard to fix the DLC.
"We made optimizations based on the Far Harbor beta feedback, but understand some people are experiencing issues. We are actively working on more improvements.  As we have news and information, we'll update this post. Thank you for playing Fallout 4."
Bethesda's games have a history of not performing all that well on Sony's platforms, but we'd not have expected this sort of thing given the relative similarity between the Xbox One, PlayStation 4 and even PC this generation.
Last Updated: May 23, 2016