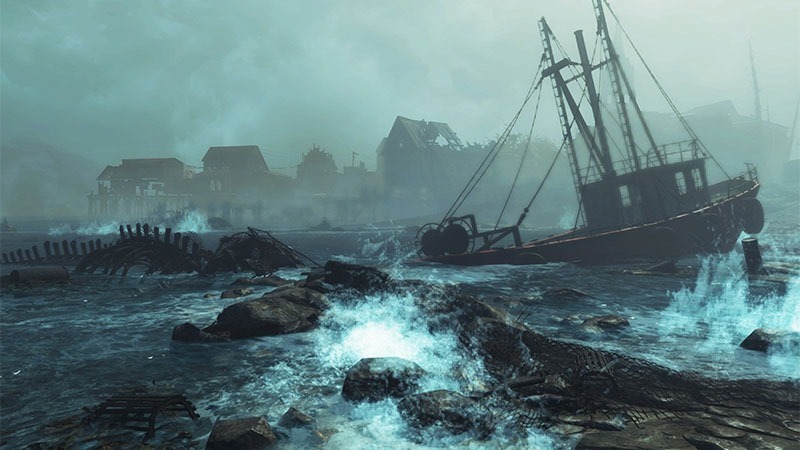 We told you before that Fallout 4's Far Harbour DLC (though apparently really, really good) ran like hot garbage on the PlayStation 4. Thanks to the pervasive mist that blankets the area, the game often crawls down to single digit framerates, making the latest post-apocalyptic adventure more of a chore to play than it should be.
That's now been fixed – but if you want to benefit from the increased framerate, you'll have to delete the DLC and download it anew. It's worth it though. According to Eurogamer's Digital Foundry, the updated DLC now chugs along at a mostly solid 30fps. There is a bit of trade-off though; as the foggy mist was the main culprit, it's been toned down quite a bit to get performance up to scratch.
Says Eurogamer:
"The good news is PS4 now runs at a practically locked 30fps line, at some points doubling the frame-rate seen in Far Harbor's 15fps stretches at launch. It represents a huge leap over what we had in its original state, and the game is vastly smoother to play with this updated build in place. However, such a radical boost does come at a price, and while the island's distinctive volumetric fog is still in play, the effect is also now visibly dialed back on PS4."
The update was released last week, but requires that you delete the DLC you already have. To download the 6.5GB update afresh, here's what you'll need to do, according to Bethesda:
Confirm Fallout 4 is not running. Highlight Fallout 4 in your PS4 dashboard, press OPTIONS, and select CLOSE APPLICATION to ensure Fallout 4 is not running minimized.
Select RELATED ITEMS. You'll find this under the Fallout 4 icon in the PS4 dashboard.
Select MY ADD-ONS.
Navigate to the DOWNLOAD ARROW next to Far Harbor and select it.
You should see a notice that Far Harbor has been Added to Downloads.
Wait for the downloadable content to finish downloading and installing before starting Fallout 4.
There's no word on if or when a similar patch will be released for the Xbox One version, which still dips to 20fps on occasion.
Last Updated: June 6, 2016