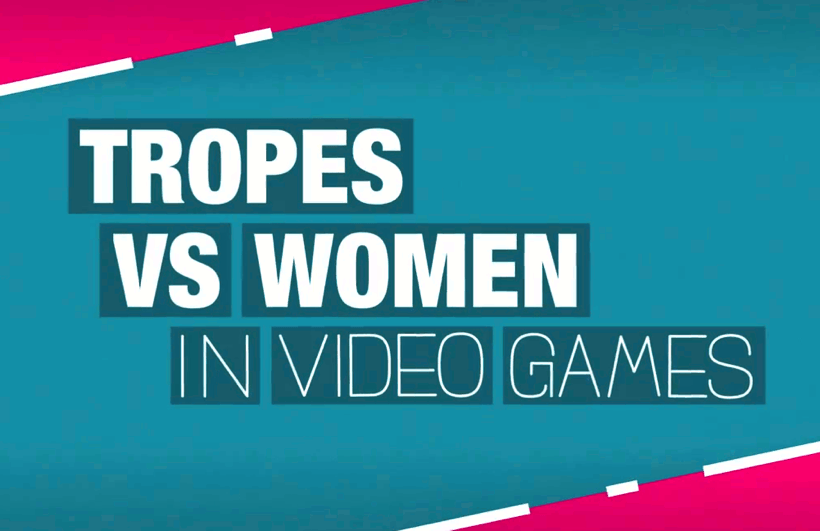 Anita Sarkeesian is an incredibly polarizing figure. I'm not looking to debate her content here; some people enjoy her work towards inclusion of women in gaming and others think she looks for problems where there aren't any. When she originally took to Kickstarter to raise money for her Tropes vs Women in Video Games series, she was asking for $6 000. That amount was reached within 24 hours, and she went on to raise $158 922. She gave a financial breakdown of how the money was spent. Four years later, has she actually delivered on her Kickstarter promises?
Did she deliver?
When the Kickstarter started, she planned to make five videos: Damsel in Distress, The Fighting F#@k Toy, The Sexy Sidekick, The Sexy Villainess, Background Decoration. As the stretch goals were met, this was expanded into 12 videos with the inclusion of: Voodoo Priestess/Tribal Sorceress, Women as Reward, Mrs. Male Character, Unattractive Equal Evil, Man with Boobs, Positive Female Characters! and Top 10 Most Common Defenses of Sexism in Games. Each video was promised to be 10-20 minutes long, giving a total series of 2-4 hours of content. These 12 videos weren't meant to vilify the industry, but Sarkeesian had a mission statement of:
Help me create another successful video series that will contribute to and help amplify the existing conversations happening about female characters in games and maybe even get the attention of the gaming industry to start creating more interesting, engaging and complex female characters, that avoid the standard boring clichés.
Not including reviews and speeches published on her channel, or the videos about how men can help overcome sexism, the Feminist Frequency has published 12 videos on the topics of Tropes vs Women. The titles of these videos are:
Damsel in Distress: Part 1
Damsel in Distress: Part 2
Damsel in Distress: Part 3
The Legends of the Last Princess
Ms. Male Character
Women as Background Decoration: Part 1
Women as Background Decoration: Part 2
The Scythian – Positive Female Characters in Video Games
Jade – Positive Female Characters in Video Games
Women as Reward
Women as Reward – Special DLC Mini Episode
Strategic Butt Coverings
The total run time for these videos is 3 hours, 40 minutes, 8 seconds. Upon superficial inspection, the titles are different than originally proposed and it might seem that the Feminist Frequency hasn't really covered the topics originally intended. However, they have produced the amount of content promised, plus in a recent update on Kickstarter, Sarkeesian explained that she actually burned out as a result of working on the videos while dealing with national exposure and harassment. As a result, the publication schedule has been extended and backers can expect the following videos in the coming year.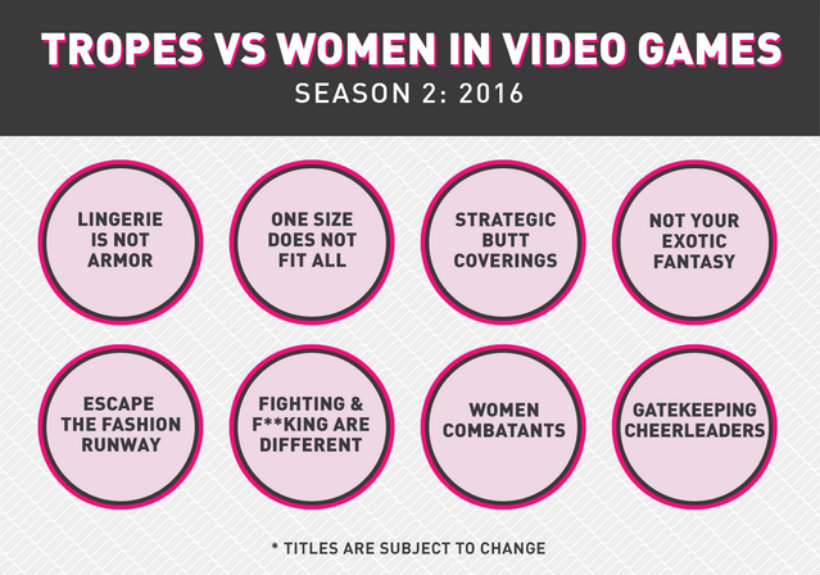 While these additional videos could be interesting, based just on what the Feminist Frequency has published so far, Sarkeesian has already fulfilled her original Kickstarter promise. She has contributed to and amplified the conversation about female characters in games with about as much video content as originally expected – whether or not you like her methods and arguments, she certainly has made it a conversation that we discussed enough in 2015 to become sick of it. The gaming industry is starting to avoid the typical clichés in some of their games, and we are seeing a rise in the quantity and quality of female characters.
Because she is continuing to develop more videos, she could not be expected to send out the DVDs of the completed series to backers yet, nor would I assume she has completed the classroom curriculum. Yes, the years are ticking by, and those expecting a physical reward might be getting frustrated, but the video series is on-going and she has already delivered more content than backers originally supported.
Kickstarter, Patreon and the crowdfunding ethos
We often crap on studios that don't deliver games as promised in their Kickstarters. While there are awesome examples of Kickstarted games like Stasis, Divinity: Original Sin and Pillars of Eternity that deliver quality games that live up to the expectations of backers, there are too many stories of games that over stretch or fail to deliver or ask for more money for new projects.
A prime example is Red Ash. After getting an excellent response to Mighty No. 9, the studio launched another Kickstarter for a similar Mega Man inspired game. This was before delivering on the first game, and the Kickstarter itself didn't look that promising. Eight months later, Might No. 9 has been hit with a ton of delays (despite being "pretty much finished" last year) and I'm starting to wonder if backers will get the game they were promised in time for them to still be excited about it. It makes the Red Ash campaign seem even more disingenuous and feels like some studios view crowdfunding as a source of cash without accountability.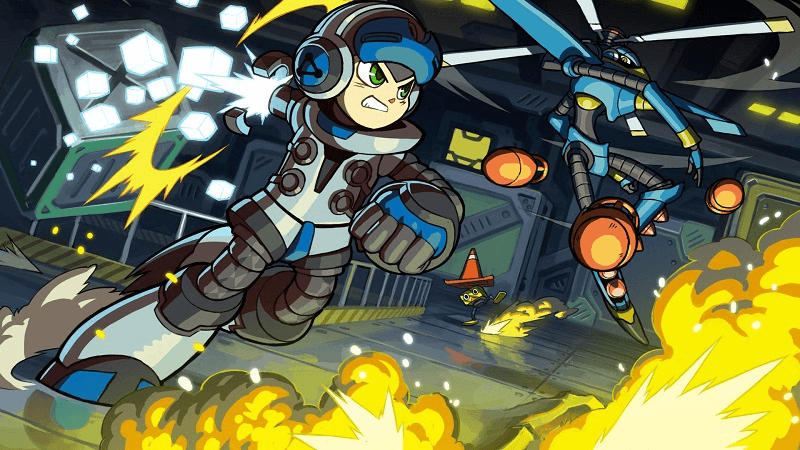 While studios that fail to deliver on their Kickstarter promises should be taken to task, we do need to look at the point of Kickstarter and other crowdfunding platforms. The idea behind Kickstarter is that artists and creators often have ideas for cool projects, but need money to make them happen. Backers can give them the money they need in exchange for a product that wouldn't have existed without them. Patreon, on the other hand, allowed patrons to give money to creators that they like so that those creators can make whatever products interest them from month to month – while there is an expectation that things will be created, there is little to no oversight about what the artist chooses to make from week to week or month to month.
Crowdfunding has changed in the past four years. Originally, it was just a way to get money for a project and then move on. Now, it is just as important as a marketing ploy and gauge of interest as evidenced in the Shenmue 3 and Bloodstained campaigns. Kickstarter was used to prove to corporate backers that gamers really did want these projects to go forward; the money raised will, of course, help make the experiences possible, but they aren't the sole source of funding. Instead, they are a proof that there's an interested audience for these games.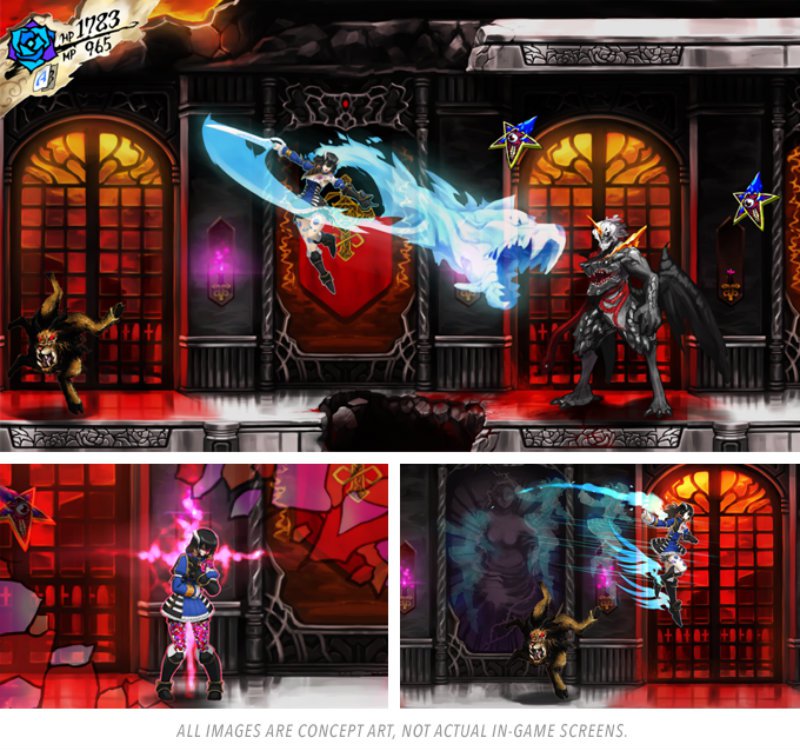 Anita Sarkeesian originally promised a series of videos, and she has already delivered within expectations when it comes to run time. Now she is looking for more money for a new project that has nothing to do with gaming. This has prompted some on the internet to claim she's just greedy and looking for money all the time without delivering on previous Kickstarter obligations. However, Sarkeesian doesn't appear to be like Red Ash – she's already made and released the content described in her original Kickstarter campaign, and is going to continue to make more content this year. Her new crowdfunding campaign is for a different project all together. I doubt it will get funding – not because it's a bad project, but because it isn't a part of such a niche interest. She is now entering the realm of typical feminist critique, and I'm not sure that people will be as intrigued by the idea.
Perhaps she would be better off relying on Patreon rather than crowdfunding these distinct projects. At least with Patreon, the Feminist Frequency can work on whatever aspect of feminist critique interests the organization (yes, it's grown beyond just Sarkeesian) at a point in time – from gaming to history, they can make videos on a range of topics and continue to get funding from patrons. But it's not for me to tell her what she should do.
Instead, upon evaluating what she's delivered, she simply doesn't compare to the myriad Kickstarters that have failed to deliver. She doesn't deserve to be named and shamed as a Kickstarter reneger; whether or not you like her videos, she has produced the content that people paid for, and is continuing to make the videos promised in her original campaign. Yes, it is taking longer than initially planned, but that seems to be how things go when Kickstarter campaigns are extended after receiving such huge responses.
Except for Exploding Kittens, of course.
Last Updated: March 10, 2016