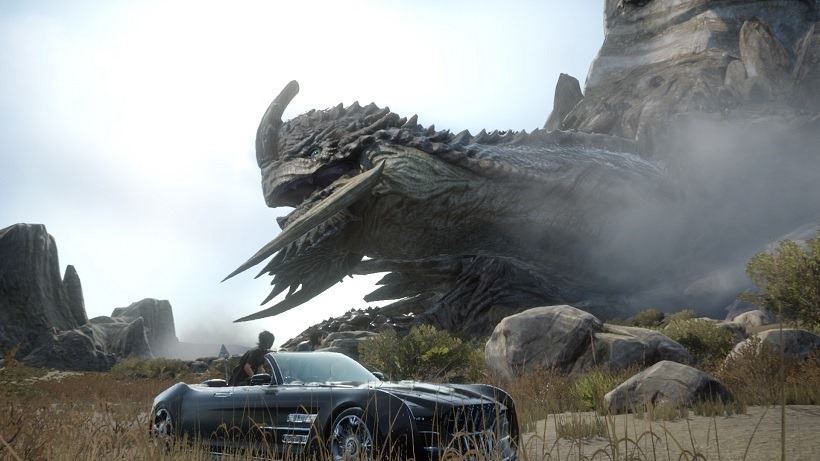 Final Fantasy XV is hogging the spotlight lately. Hot off its release date reveal last month, Game Informer is running a month of coverage for the JRPG, revealing all manners of details around the story, gameplay and characters that has previously been kept very secret. The first act, for example, is an experience that will probably feel familiar to players, but one that sets the stage for the more serious tone of the main narrative. A narrative that will shuffle you from one area to the next.
It's been easy to assume from footage that Final Fantasy XV will be a large, open-world RPG that offers players freedom to come and go as they please. That's true for certain areas, but game director Hajime Tabata cautions the idea of thinking of Final Fantasy XV as a traditional open-world title. Where those focus on creating a large world and then populating it with things to do, Final Fantasy XV never lets you forget where you're currently headed.
"We always wanted to ensure that the story and the freedom are present. So the technology is built on an open-world, but the way we approach this freedom aspect is not to have the freedom come first and then us implement the quests that would support the freedom. Rather we have the story first and then create as much freedom we can give in the player in that story. In the points that connect these stories, we feel that you will be able to experience more freedom than you ever have in Final Fantasy in this world."
Tabata also details how the idea of a budding road trip with friends is quickly turned into a more serious quest after Chapter 1, as Noct and his party learn of an impending danger threatening their home city. The light heartedness of the first Chapter should act is a pleasant and natural introduction to the party before they embark on their true mission, with the game never forgetting the little details that make the road trip setting so fun.
There's a lot of thought going into the way Final Fantasy XV's narrative is structured, and it seems that Tabata and his team are doing their best to ensure that players get lost in a world that also provide a fair amount of direction. It's a fine balance that some RPGs sometime miss with an avalanche of content over true guidance, and it could end up making this latest entry into the series that much more compelling. It;s out September 30th.
Last Updated: April 7, 2016