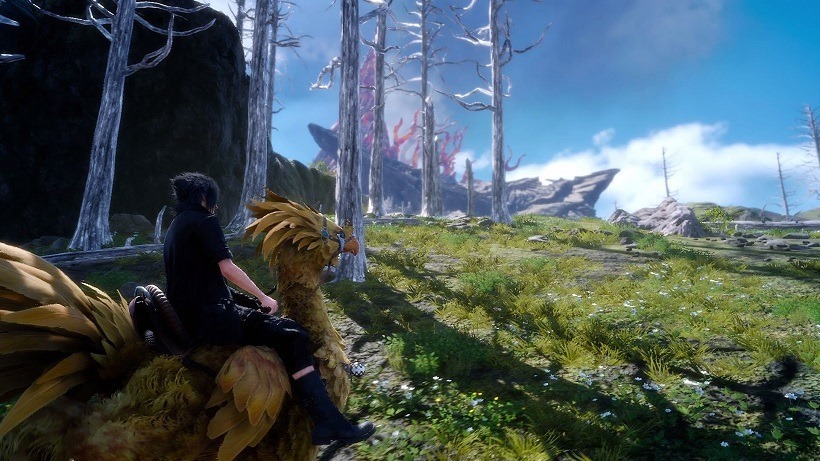 If you've been watching anything to do with Final Fantasy XV (including its unfortunate/fortunate delay to the end of November), you're likely to have seen mostly open-world gameplay. Square Enix has been very careful with what they show off of the game, but the majority of gameplay show Noctis and his party of friends exploring massive open areas. You'd almost be excused for assuming the entire game is like that, but that's far from the truth.
Japanese outlet Famitsu (via Siliconera) recently got the chance to play the game past the third chapter, and speak with game director Tabata about what they saw. While the game's first half is entirely open-world, the game shifts to a stricter, linear focus in the second. Tabata, during the interview, said that the alternates between these two design states frequently during its full 15 chapters.
"The entire game's structure for Final Fantasy XV consists of both open-world and linear parts. The first half keeps going as an open-world, but the story in the second half's is led by a linear path. That way, you won't get bored of an open-world, and the entire game gets tightened up, so we made it in a way that you'll also get to advance through it as you have in conventional Final Fantasy games. If you play through the first half and only the main route of the second half, I believe the estimated play-time sits at around 40 to 50 hours."
Tabata also continued to say that Famitsu had only played around 15% of the game in its first three chapters, alluding to a much bigger overall package waiting for players late in November. Personally I think the shift between open-world and linear play is smart, especially in more story-driven titles. Certain beats need to have a particular level of control over them, to ensure that all players see and experience what they need to for the narrative to cohesively progress.
All Tabata and his team need to make sure of is that the transition between these states isn't too jarring, and that the freedom of gameplay in open-world areas doesn't suddenly get stripped away in more narrow sections. Final Fantasy XV is out on PS4 and Xbox One late in November.
Last Updated: August 26, 2016