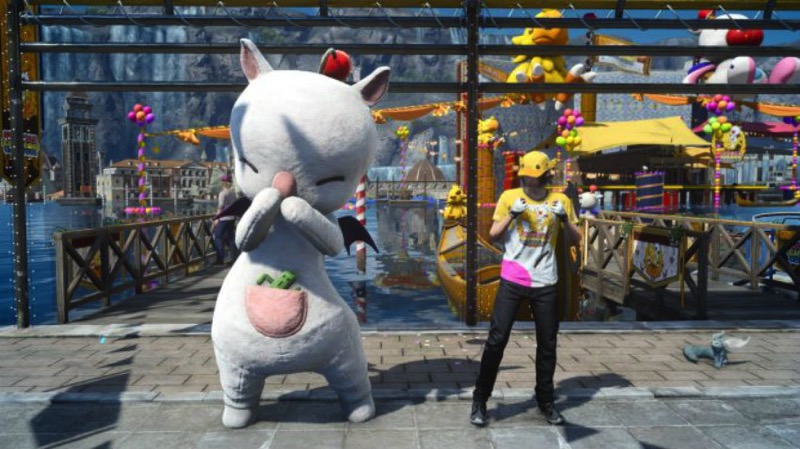 I really enjoyed Final Fantasy XV. It was a new take on the franchise, a more modern and realistic view of the world that still included franchise staples like Chocobos, Cactuars and Adamantoise. The only thing that was a bit absent were Moogles. They were there, but not in the way that many of us were used to. Now there's a carnival that's coming to the game and we will see a lot more of them, but woah this was not what I expected.
Here is a trailer for the upcoming event:
I like that there are some funny dishes, and sure it's cool that Noctis gets a new outfit, but um, what's with the weird dancing? It sort of reminds me of when Darryn danced at E3 and proved his race without a doubt:
The DLC promises to add side quests, new outfits, and more. There's a free version and a paid version, though, so you might experience different things from what you see in the video depending on which you opt for.
This all strikes me as a bit odd. Yes, I loved Final Fantasy XV, but I've had the full experience – I played through the whole story, went back for some more hunts and to get all the trophies and hit more dungeons. I really don't need to go back in order to… dance with a moogle? Is it just me, or is this kind of a waste of time? Who is excited for something like this?
Then again, I'm not sure what sort of DLC would get me excited to get back into Final Fantasy XV. I feel like I did everything I wanted with the game. There'd have to be a really compelling reason to jump back in.
Are you going to put on a chocobo t-shirt and check out the carnival, or is this all a bit weird for you, too?
Last Updated: January 20, 2017