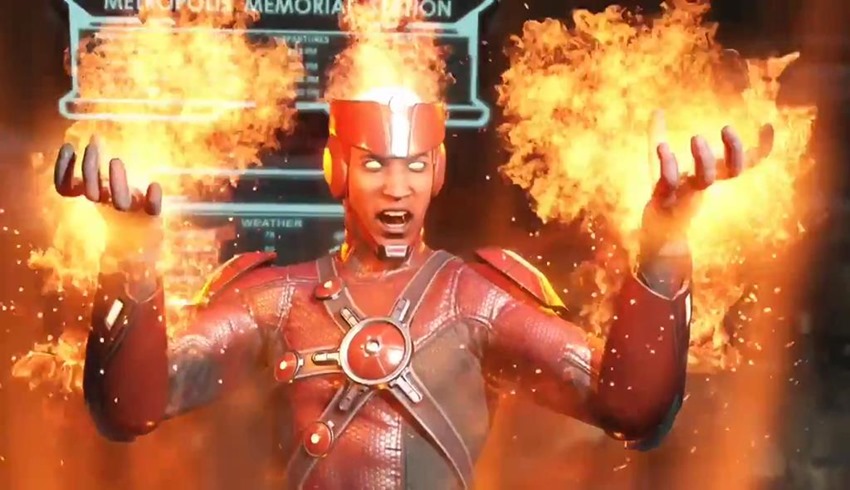 Imagine having the power to shape the very building blocks of matter, from atoms to quarks and quantum foam. Or even the empty space in Nick's head. Imagine being able to take any material and reshape it into something else instantly. Now imagine having all of that power, but you've got to share it with a voice in your head. And unlike the voices in my head that demand that I go set a Kurt Darren concert on fire, this voice is very, very real.
That's Firestorm for you, a veteran character from the DC Comics library who has been seen in all manner of TV adaptations. You might be familiar with his current incarnation on Legends of Tomorrow, a hero whose only weakness is a limited special effects budget that keeps him from flaming on too often or doing anything too expensive with his powers.
He's also the next character in Injustice 2, having been teased by NetherRealm boss Ed Boon all the way back in December. And here he is in action courtesy of WWE Star Xavier Woods, the most likeable YouTuber around. Fast forward to the 8 minute mark to see him throwing down some fireballs:
NetherRealm describes Firestorm as a ranged character, whose signature ability is a Nuclear level that can be activated to increase his power. So kind of perfect for those of you who cheesed with Deathstroke and happen to be looking for a new character to keep the opposition at a distance with. I hate you already. There's most likely more to Firestorm than just quick fireballs and a torpedo attack that would make M Bison proud, but the video above is a bit light on those details.
Injustice 2 is out on May 16, which is the same month that I escaped the womb from many centuries ago in a dark ritual. That might be a birthday hint. Might.
Last Updated: March 14, 2017