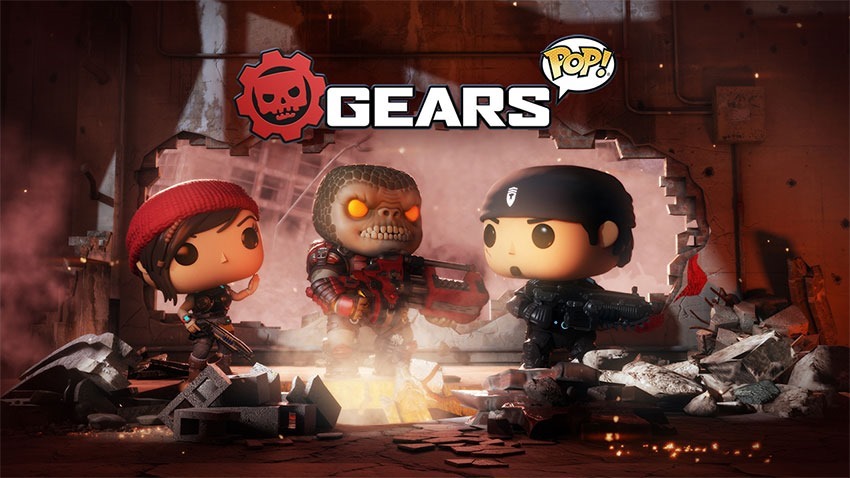 At E3 this year, Microsoft announced not one, or two, but three Gears of War games coming to Pc and Xbox One in the near future. Of those games, one of those games caused furrowed brows on those watching Microsoft's E3 keynote. Sandwiched between Gears of War 5 and Gears of War Tactics was Gears POP!,  a mobile game that featured digital Funko Pop versions of Gears of War heroes. No gameplay of the game was shown, but it seemed an odd inclusion.
Probably because it was bookended by new core Gears games it didn't quite draw the same sort of ire that Blizzard received with its reveal of a mobile version of Diablo. Instead, the reaction was more one of confusion. Microsoft seems to have learned from Blizzard's mistake though, as they've shown off the first gameplay from Gears Pop through a dev diary when they easily could have featured it at their recent X018 event in Mexico.
In this dev diary, you can watch Gears of war boss Rod Ferguson take on lead designer Tyler Bielman in a clash between the Gears and the Locust in the mobile game. It looks pretty similar to games like Clash Royale, just with a bit of a Gears of War theme.
Bielman says the game is in soft launch, with a full launch expected in 2019. And honestly, it looks fun. With three minute battles, it hopefully won't be too much of a time sink, and hopefully won't include predatory microtransactions. As we know from the fact that there are two core Gears games on the way, we know that this isn't the primary focus.
Last Updated: November 15, 2018