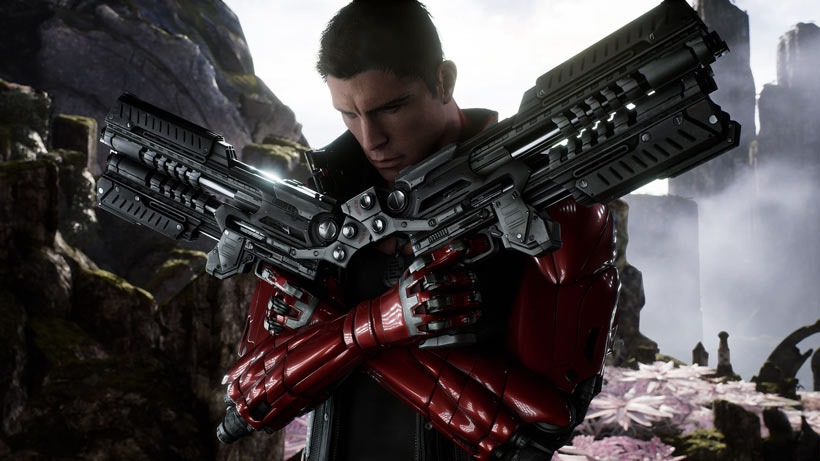 I'm still not a big fan of MOBA games, and I'm seeing the genre everywhere lately. We're in a reactive industry, and around two to three years ago when developers saw just how massively popular games such as League of Legends and DOTA were (PISS OFF MATTY I'M NOT PLAYING LOL WITH YOU STOP BUGGING ME ABOUT THIS), everyone wanted in.
And now we're seeing that collective burst, with the DNA from the MOBA genre having infiltrated a number of upcoming releases. Everyone is looking to do something unique with the click-heavy idea of attacking lanes. Like Paragon, who are making damn sure that their MOBA will the prettiest new kid on the block.
Like other MOBAs, it'll also be free. Or you can pay for it, as a retail edition will be hitting shelves, with the following list of goodies included according to the PS Blog for the June 7 release:
6000 Paragon Coins (worth $60).
In-game currency to spend on additional Master Challenges, skins, boosts, and other items that I'll see as you stand over my corpse.
Five Hero Master Challenges.
Each Master Challenge immediately grants a Challenger skin and permanent XP boost, plus unlocks unique rewards as you play, including a taunt (that you'll use on me) and the Master skin.
Includes Master Challenges for Twinblast, Sevarog, Iggy & Scorch, and two soon-to-be-announced Heroes.
Five Skins, including the launch-exclusive Wasteland Twinblast skin.
For now, you can only get the Wasteland Twinblast skin in the Essentials Edition.
Five Rep Boosts (each lasts for three wins).
Rep boosts speed up how quickly you earn Rep, which you can spend on card packs, Master Challenges, and more.
So one for the fans then. At least the beauty of this, is that you'll be able to try the game for free before deciding to dedicate a substantial amount of coin to it. It's not a bad selection either, if you're into this kind of thing.  Pre-orders for the Essentials edition net an extra 1000 coins for the purse, because dammit this MOBA is the prettiest so it must be the best.
Right
Last Updated: April 26, 2016