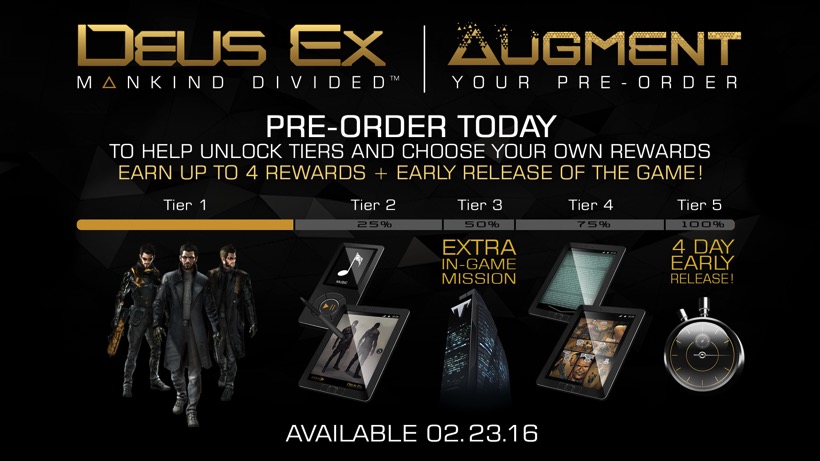 So many people rely on pre-orders. I used to think it was just retail, but it's also distributors and developers and the drive to pre-order a game has become its own form of marketing, with different campaigns being used to push the pre-orders than purchases in the days and weeks following a game's release. While I will still pre-order some games because I'm part of the problem, the reality is that pre-orders tend to set people up for drama and disappointment, and allows publishers to make use of all kinds of weird pre-order programs. Well, Deus Ex has realized it was wrong, and is changing.
Announced over on the Deus Ex site, Square Enix and Eidos-Montreal acknowledged that they were actually listening to the internet outrage:
When it was first conceived, we wanted the program to give you more choice about what you received in terms of pre-order incentives – because we've seen in the past that when we choose those packages ourselves, and split them across regions, it has caused frustration. We quickly noticed that this approach created even more frustration than before, resulting in a resounding amount of negative feedback.

We've spent a lot of time reading through all of your comments, working to understand how we can try to make thing right for you. After much though and reflection, we decided to close down the program and make all of the incentive content available to anyone who pre-orders Deus Ex: Mankind Divided or purchases a Day 1 edition of the game. Additionally, the release date will no longer be changed in accordance with the pre-order numbers, and everyone will gain access to the game on February 23, 2016.
The original pre-order system was so convoluted and awful, of course it spawned vitriolic internet outrage. I'm just glad that they actually listened and are changing things. See, sometimes our outrage can make a difference. Not always, maybe not even often, but sometimes. Now can we target that outrage at all the other games that don't include all content in special/collector's editions? That really grinds my gears.
Last Updated: October 2, 2015