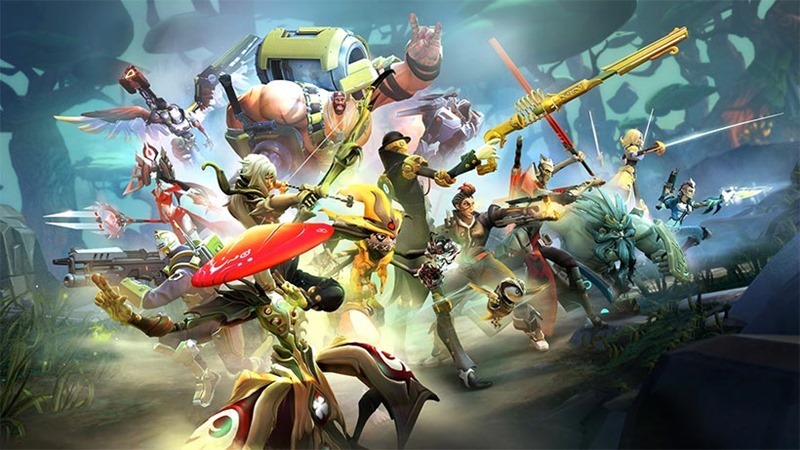 Overwatch is the king of hero shooters right now – and it'll probably stay that way for a good while yet. Unfortunately for Gearbox and 2K, that means their own Battleborn – though somewhat of a different game – hasn't had nearly the same attention hoisted on it by media or consumers. I think, considering its miniscule impact, that Battleborn can be considered a bit of a flop.
And still, it's being supported. In a blog post, Gearbox has outlined the game's DLC roadmap, and what sort of extra content is coming to the game. Starting next month, Gearbox hopes to put out some new content every second week. There'll be a bunch of free and paid DLC, including new maps, new heroes and new aesthetic things to spend real money on.
This should make the seven or so people who bought Battleborn happy.
Free DLC:
5 more heroes, bringing the total to 30
Alani – released May 31st, 2016
Pendles – coming soon in July
Three more heroes to be revealed in late Summer through the Fall
Three new PVP Maps in the next couple of weeks, one for each mode
Broadcaster Mode coming hopefully next month. Broadcaster mode will allow you to spectate the battlefield using a set of third-person camera controls to follow players on either team, jump to
points of interest, or to move freely around the battlefield in Private Versus Matches.
In-game Reporting, our goal is to include it in the next major patch update for July. In the interest of making it easier to report players who are trying to ruin the fun for everyone, we've created an in-game reporting function that will be accessible through the scoreboard and allow you to flag players who are suspected of cheating, abandoning games, or ruining the overall experience.
Matchmaking Adjustments: Ongoing. We regularly adjust and tweak matchmaking parameters in order to keep improving the matchmaking process. In fact, we'll be testing out an overhaul to the matchmaking system starting later this week.
Hero Balancing: Ongoing. As we gather data from matches and mission, we'll continue to adjust and refine hero balance in the game. You can expect a bigger adjustment to 24 of the 26 characters likely coming in the next couple of weeks.
Lore Challenges: Upcoming major patch. We are working on adjustments to lore requirements as well as how those requirements are tracked.
New PVP mode this Fall
Another new PVP mode in late Fall or Winter
Weekly hot fixes as well as regular updates and patches
Premium DLC:
Alani early access with hero key started May 24, 2016
Pendles early access with hero key in mid-Summer
Each DLC Story Operation release includes new, unlockable skins and taunts
DLC 1 Story Operation "Attikus and the Thrall Rebellion" coming late Summer
Heroes 28 – 30 early access, each with a hero key, coming mid-Summer through the Fall
DLC 2 Story Operation around late Summer
DLC 3 Story Operation coming early Fall
DLC 4 Story Operation coming late Fall
DLC 5 Story Operation coming this Winter
They've also made mention of the stuff you can buy right now. Please? PRETTY PRETTY PLEASE? PLEASE BUY OUR GAME.
Purchasable with Earned Credits right now:
Loot Packs
New heroes
Additional bank pages
Additional Loadouts
Purchasable with Platinum right now:
25 Premium Skins
8 Premium Taunts
Additional bank pages
Battleborn is actually quite a bit of fun, but its release timing and the public perception around it going head-to-head against Overwatch hasn't done it any favours.
Last Updated: June 29, 2016