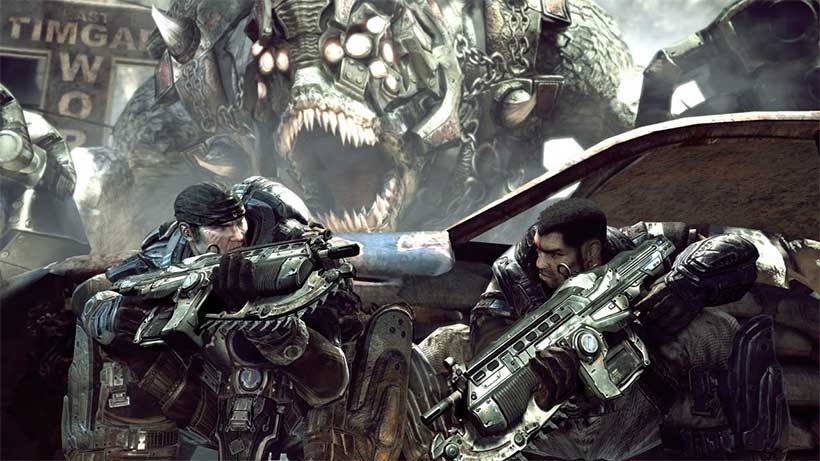 Gears of War: Ultimate Edition is out on PC. When it was released on Xbox One it was hailed as a revelation – largely thanks to the 60fps that the classic multiplayer was now running at. It's smooth as silk, and really how the game should be.
On the Xbox One, the campaign was constrained to 30fps – but on the PC, it's running at a sexy 60fps. It's also able to be played in glorious 4K, and utilises Microsoft's new performance-boosting API, DirectX 12. It sounds like just the thing if you want to show of your brand new, ludicrously expensive PC hardware.
It's not. Right now, the game is a bit of a disaster. According to Forbes contributor Jason Evangelho and other reports, Gears of War: Ultimate Edition on PC is a bit of a hot mess. And though the performance issues are affecting both Nvidia and AMD hardware, they seem to be far more prevalent on the high end of AMD's architecture. Brand new, $500 cards like the Radeon Fury and R9 Nano are unable to run Gears of War: Ultimate Edition at playable framerates.
Take a look:
Says Evanghelo
"What you're watching is the Radeon Fury running the Gears of War: Ultimate Edition benchmark on my capable Intel test bench, at 1440p with High quality settings. These settings include FXAA and Ambient Occlusion. You're also seeing horrendous hitching and stuttering, and some visual corruption thrown in for good measure, making the game completely unplayable on an excellent $500 graphics card."
According to reports, you'll even get stuttering of this ilk on Nvidia's GTX 980Ti. There are more issues still. The game has absolutely no support for SLI or Crossfire setups, and though it's been touted as having an unlocked framerate, it'll only run as high as your monitor's refresh rate will allow. And because of that, it has no support for Nvidia's Gsync technology.
On AMD systems, the issues seem to be related to Ambient Occlusion and AMD's GCN tech, Older AMD cards that run on GCN 1.0 perform better than modern ones utilises GCN 1.1 and 1.2. According to Microsoft, they're "driver issues."
"We are working closely with AMD to address a few issues that users of some AMD Radeon Hardware are experiencing while playing Gears of War: Ultimate Edition for Windows 10 and expect that they will be addressed quickly in an upcoming update," they said in a statement to Forbes.
On its support forums, Gears of War developer The Coalition has outlined the known issues – with AMD performance being one of them.
"AMD is an important partner bringing the promise of DirectX 12 to life for gamers everywhere. We are working closely with them to address a few issues encountered in Gears of War: Ultimate Edition for Windows 10 on AMD cards using GCN 1.1/GCN 1.2, and expect they will be addressed quickly in an upcoming update. We highly recommend those on GCN 1.1/1.2 cards to play on 1920×1080 resolutions or lower until the update"
Bear in mind that this is a remaster of a game that was released in 2006, built on DX9 technology. One of its biggest problems – and possible the root of most of its issues – is that it's a Windows Store title, which means it inherits the problems of its distribution method. It's a problem – and hardly the sort of thing that'll endear Microsoft to PC despite their best efforts.
Last Updated: March 3, 2016