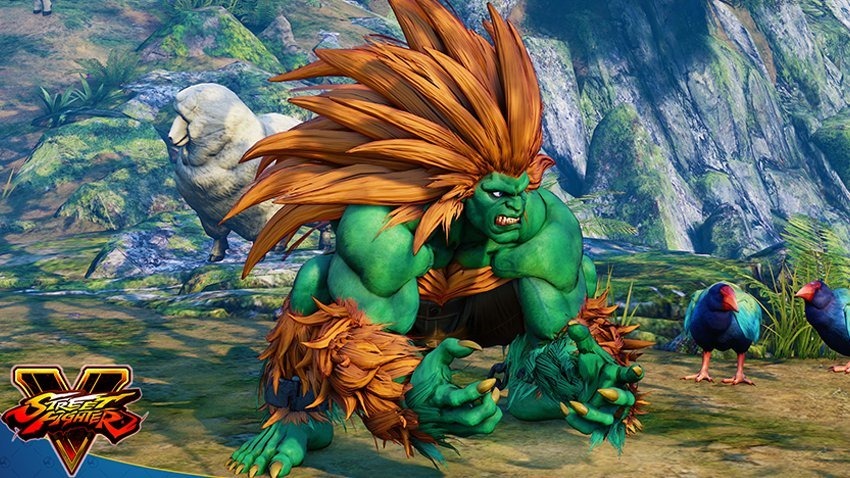 With the recent release of Street fighter V: Arcade Edition, the game is finally up to the standard it should have been when it was first made available in February 2016. The interface has been cleaned up, there's a wealth of playable characters, and there's enough single player content (yes, including an arcade mode) to keep most players happy. If you ignored it for its pro focus in the past, it's certainly worth giving another look.
I may jump back in myself, because one of my favourite characters is finally coming to Street Fighter V. As part of the Season 3 set of characters, the rolling electric beast Blanka will finally be back in Street Fighter.
What's the reason for Jimmy's return to pugilism after what seemed years of relative peace and stability? Apparently something to do with a roving salesman who convinced Blanka that there'd be fame and fortune by making a doll in his likeness. I said Street Fighter V had single player content..I didn't say the story was any good.
"In SFV: AE, Blanka is living peacefully with his mother, and has adapted well to being introduced back into society," Capcom explains on its website. "One day, a suspicious salesman approaches him and offers a way to make Blanka famous by mass producing a doll made in Blanka's likeness. Will it work? Find out in his character story mode."
Anyway, he looks insanely fun to play, with some interesting moves that help him inch closer to his opponent. As with all characters now, he has a pair of V triggers.
His first is called Jungle Attack and it's a roll that can be followed up with more attacks – usually ones involving electrocution. His second V Trigger is called Lightning beast, which unlocks a new move called Rolling Cannon, which can be used to extend combos.
Last;y, his Critical Art does what you'd expect, combining both rolling and electricity to devastating effect. As always, Blanka is part of the Season 3 Pass, and is available to purchase separately using cash, or fight money earned within the game. The Season3 Pass also includes the already available Sakura, Falke, Cody, G, and Sagat.
Of the original eight World Warriors from Street Fighter II, it's just E Honda that's yet to be inserted into the game. I'm not sure we'll see him.
Last Updated: February 13, 2018