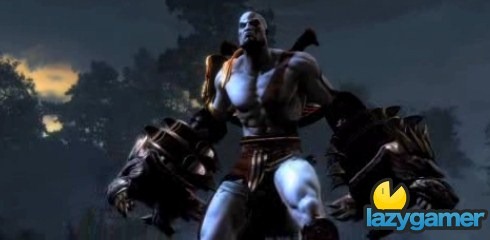 God of War III is coming and I know that I'm not the only one that is ridiculously excited to play it.
What makes it better is that there has been nothing but good news streaming in over the last couple of days with regards to elements outside of the game itself. While we all want to step into Kratos' shoes as soon as possible, there are always the other little niggles, like how big the install is and what the loading times will be like.
Are they very important? Not really, but for some reason we care a lot anyway.
So let's start with install size. How big will the install size be for this incredibly huge game weighing in at 35GB – 40GB's in size? Wrong! It was a trick question.
God of War III will not need to be installed at all, meaning more space on your HDD for other stuff, like Heavy Rain.
Then you ask yourself… if there isn't going to be an installation, are we going to be stuck in endless loading screens for the majority of the game? The short answer is no. The director of technology at the Santa Monica Studio tweeted the following:
"And since people asked: #GoW3 has seamless loading. No install, followed by 10+ hours of play uninterrupted by load screens!"
There were rumours flying around this week that the cutscenes in God of War III were actually pre-rendered CG (and hence the size of the game on the disc), and this turned out to only be half true as the cutscenes do all use the games very own engine, but a few are pre-rendered and played as video due to extreme epic-ness.
Pre-rendered cutscenes should also allow the game to load in the background while you watch, meaning the illusion of seamless play, and that works for me just fine.
So what we have here is a game that looks gorgeous, comes from a series that plays like a dream, has no install, no loading times and a whole lot of violence.
I don't think it gets better than this folks. 16 March people, so close, yet so far.
Last Updated: February 25, 2010