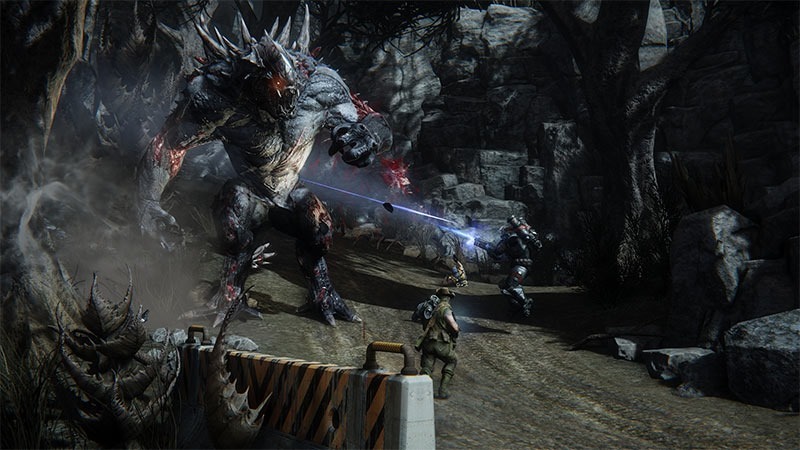 Before its release, Evolve was one of the most hyped games in recent memory (though not quite as rapturous as No Man's Sky). Many publications (including this one!) bestowed heaps of pre-release praise on the game, having played it in controlled conditions. And that's because, when the stars align, the game is genuinely fun.
Unfortunately, in the real world, those conditions were seldom met, and just about every game devolved in to a game of chase the monster for perpetuity. Running around in circles for hours is seldom fun. Couple that with a frankly obscene take on in-game monetisation, and you have a game that very quickly haemorrhaged its active user base.
But there was hope! This year, the game relaunched on PC as a free-to-play game. Retooled to be more fun, developer Turtle Rock had put faith in the free-to-play model. While Evolve Stage 2 did indeed attract new players, they didn't stick around. And now, it's all over.
Turtle Rock has ceased development on Evolve. In a rather emotional post on the developer's site titled "Our Final Message To Our Evolve Community," Turtle Rock lays it all down.
"We had huge aspirations for Evolve, and while we got to spend five and a half awesome years on planet Shear with a ragtag group of Planet Tamers and fearsome Monsters, it still doesn't feel like enough – we were hungry for more but unfortunately today is the last day that Turtle Rock Studios can work on Evolve."
That means no more development or updates to the game – and the planned release for Stage 2 on consoles has been binned.
"It's always hard to leave one of our games behind. Left4Dead was no different and now it's Evolve's turn. There will always be a special place in our hearts for our past projects. No matter what happens with Evolve in the future, we'll know it was born in this studio and developed by this team alongside this beautiful community.

This is the life of AAA game developers who aren't self-funded and don't own their own IP. We don't get to make the call. We all know that going in but we still sign the dotted line because we love what we do. We are happy to have gotten the opportunity to do something risky, something new and innovative. We created a brand new Sci-Fi world. We got to go to planet Shear and interact with alien flora and fauna. We got to hunt down, trap and kill giant monsters together. We got to BE the monster. What an awesome experience."
The letter doesn't explicitly state why the development is being shut down, though it does imply that 2K has made this particular call. 2K, will however, be keeping the PC servers alive "for the foreseeable future."
Last Updated: October 26, 2016