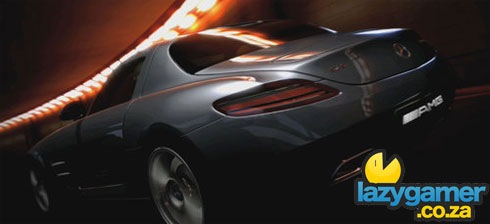 This would normally be something posted by our resident petrolhead Nick – who apparently hates Gran Turismo and worships at the altar of Forza because he's a rabid, frothing-at-the-mouth fanboy – but seeing as he's still on holiday I'm going to post it instead, as well as say nasty, untrue things about him.
In the new trailer you'll find after the jump you'll see the Mercedes Sl..somethingorother in action. You know, that car that'll be on the cover of Gran Turismo when it finally ships in 2024. Anyway, the trailer features real and videogame footage of the car, which is sometimes indistinguishable – to my bleary eyes at least. I suppose the car's kinda sexy…it's like a giant, expensive silver penis.
No,  seriously folk, even I'm keen for GT5 – I haven't crashed a virtual car in a long time.
Last Updated: January 7, 2010