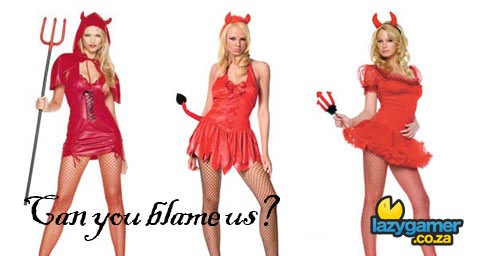 Happy Halloween folks, this is the time of giving and love… no wait, sorry, wrong one.
Happy Halloween folks, lets see some awesome people in awesome, stupid or hilarious halloween costumes because as you all know, the festival of the dead is all about dressing up and has nothing to do with demonic spirits and that sort of thing, it's all about sweets!
In the spirit of Halloween, we want to run a small competition that's easy to enter and could bag you a free GTAIV Ballad of Gay Tony shirt.
Hit the jump for the quick details and let's do this thing.
Okay, rules are simple.
Go onto the Google MyTwitFace SpaceBook cyber-universe thing and find us awesome, funny, scary or stupid images of people in Halloween costumes. Paste the link to the image into the comments section with a short description and off you go.
We will take a winner from our comments section and send them the free T-shirt? Sweet? Good.
You can enter more than once but please try and make sure that no one has already posted the same image and please note that you must be a resident of the SADC to be eligible. If possible, we will try and change the links into images for all to see.
Get cracking, let's see some cool stuff! Thanks to Megarom for supplying the prize.
Last Updated: October 30, 2009