Hunting
After the sheriff took the downed villain away I decided to wander around for a while and it wasn't long before I stumbled across some rabbits bouncing down the road, out came the rifle and down went the rabbit.
After walking up to the rabbit a message popped up on screen instructing me to push Y to skin the rabbit… apparently you can sell the skins at the local markets to get cash to help you rank up, I skinned a couple more animals that were roaming around and noticed that I got an award of some sort for being a hunter. I'd put money on these becoming achievements/trophies but that hasn't been confirmed.
Gang Hunt
Next up is a side episode where I get to rescue the girl from a gang that has her tied up in a nearby building, I set my waypoint for the gangs homestead of sorts and then follow the radar to get there. The gang is scattered throughout the homestead and can also be seen in the distance at perfect sniper locations on scattered butte's.
I despatch with the gang and rescue the lovely lady for her father the farmer who is waiting outside and then I explore some more.
Vultures
The vultures have arrived to feast on the death that you have left behind and by now there are about 8 of them circling above your head, after taking one or two down I decide to head for higher ground and climb up onto one of the small buildings scattered around. Climbing of ladders is simply activated by walking into them and when heading down a ladder you can press a button to slide down faster if you are in the heat of battle.
Once the vultures are despatched I complete my sharp shooter challenge which I once again think will be linked to achievements/trophies in the final game.
I then loot all the corpses and search around for anything valuable that these petty criminals may have owned prior to their demise.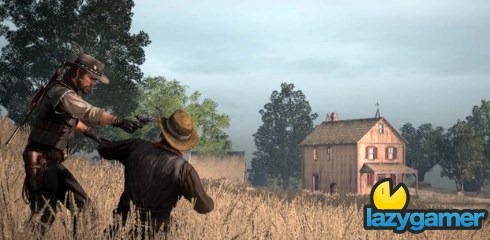 Drunken Irish
It was around about now that I met my videogame soul mate, a drunk Irishman who had promised the world and was now being forced to deliver on it.
Irish appears to be a really nice guy with a just a small drinking problem, he had promised to organise a Gatling gun for John and he has delivered… kind off.
The gun exists but it is being kept in the bottom of a mine filled with people who would like to keep it for themselves, Irish tells me he is going to run off to get a flatbed truck and that I have to do this part myself.
So I begin the long trek down the mine which now plays out very similar to a shooter on rails, skulking around corners we find the obligatory red crates which explode when shot as well as oil lamps which, when shot, rain down oily fire on all those below them.
It's a fun stage and when I finally reach the bottom I find the gun sitting in a mine cart, I begin to push the cart back up and once outside I notice that reinforcements have arrived. I get the cart moving at pace and John automatically then leaps onto the
back from where I can begin aiming easily and taking out everyone around me.
Thankfully the not so reliable Irish has returned with the flat bed as promised and we load up the gun for him to take away.
And that was the end of my hands on, some of the other cool things that I recall from the event are as follows
Last Updated: January 28, 2010