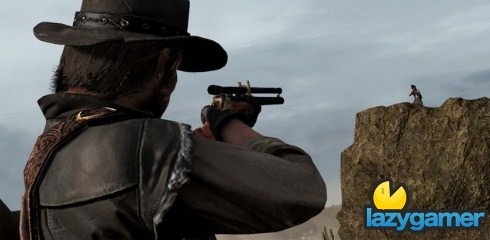 Up close and personal
If you manage to get close enough to someone you are in a fire fight with then John will perform an up close and personal kill, for example with the shotgun he will shove it under the guys chin and pull the trigger… it's pretty final.
Melee
I didn't have much time with it but there is a Melee system and it felt very GTA-like, but once you know about the afore mentioned up close and personal kills you really won't want to simply punch anyone.
Campfires
If you find people camping in the bush you can enter their encampment and sit around their campfire to discuss life and all things Wild Westish. This is where you could find invaluable information about your next target or even pick up some side missions along the way.
The Towns
I never entered a town this time but you could see one if the distance where you will be able to go to sell your animal skins (pelts) as well as play some mini games and probably visit the local brothel. This is also where you will find wanted posters if you need to earn more bounty.
Ragdoll
The ragdoll physics are true to form in this game and you get an evil sort of satisfaction from sniping someone on a mountain and watching them plummet to the ground hitting every rock along the way.
Climbing
You can climb up mountains and large rocks to get the better ground in a fire fight or simply to scout out the local surrounding.
Structural Damage
You can shoot through small pieces of wood, take down cactuses with well aimed shots and destroy smaller objects. Full on damage however I wasn't able to accomplish.
Conclusion
It's not possible to give a fair conclusion from my limited time on the game but from what I have seen and played the game is looking really good. If you are a fan of the Wild West or GTA then this game is starting to become an absolute must on your calendar.
If you are a fan of both then it's time to place your pre-order now.
Red Dead Redemption is visually stunning and if all the stages are as immersive and entertaining as the two I played then this game is going to do very well indeed.
Feel free to ask questions and as I said before, I will do my utmost to answer every one of them or let you know if I am not allowed to.
Last Updated: January 28, 2010