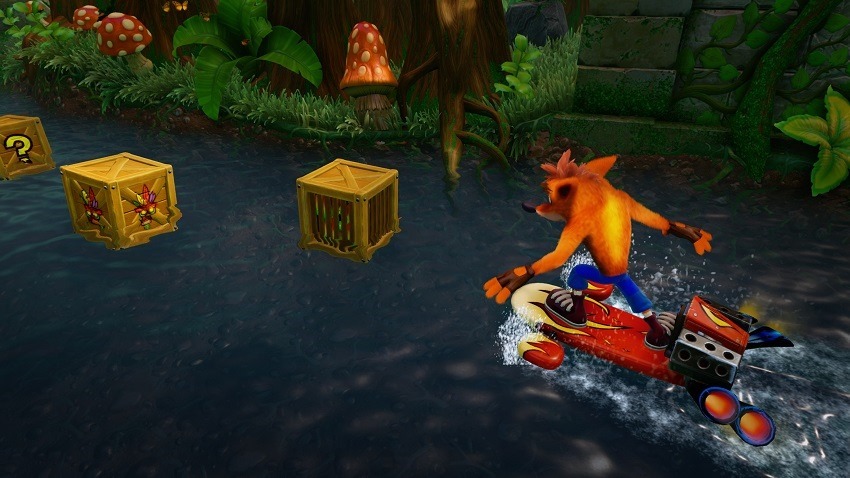 Crash Bandicoot as a trilogy is a little shaky in terms of overall quality (mostly because the first game is, well, not that good), but you'll find it hard to argue which of the three is really the best. Sure many have fond memories of Crash Bandicoot 3: Warped (it was the first one I personally played), but Crash Bandicoot 2: Cortex Strokes Back is undeniably home to the most memorable, well designed levels of the bunch. And Hang Eight is a great example of that, now remastered in the soon to release N.Sane Trilogy.
Taking on the lush jungle with a red hot rod, motorised wakeboard, you don't get much more Crash Bandicoot than this. It's the first footage release of the second game in the upcoming remaster, with all previous gameplay clips focusing instead on the many changes made in the tough as nails first title. It looks just as good too, as long as you're not put off by the overly clean presentation that this remaster is taking liberties with.
The entire collection will feature all three titles spruced up in HD, along with remastered versions of the original soundtrack and a higher fidelity to the entire package. It's almost in the same vein as a remake, although gameplay is still very much intact here. Those routes you have ingrained in your memory are still present, so don't expect innovation in that department.
Which is to say that if you happened to not really enjoy Crash back in the day, it's likely this remaster really isn't for you. It's still up for question whether fans of the originals will receive it as positively as they did back then, when 3D platformers were in their infancy. Crash Bandicoot has certainly aged in terms of gameplay, but the allure of the orange Sony mascot might prove strong enough to encourage strong sale. And after that, who knows what the future hold for the series.
But if you're looking to reminisce on the good old days, Did You Know Gaming's look back at how technologically advanced the game was on PSX is the perfect way to do just that. Naughty Dog must have made that deal with the devil much longer ago than you might think.
Last Updated: March 13, 2017