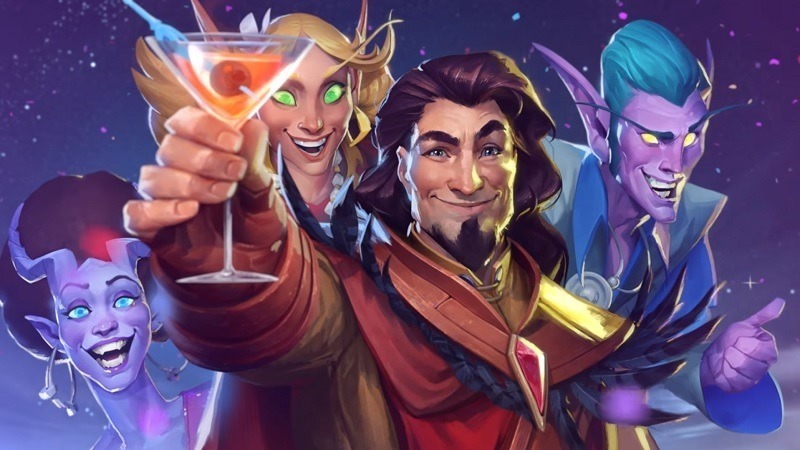 The announcement of Hearthstone's newest adventure, One Night in Karazhan, came as a bit of a surprise. The last expansion, Whispers of the Old Gods, came out only a few short months ago, so additional content for Blizzard's ever addictive card game wasn't expected until at least the end of the year – at least in my eyes.
And yet, here we are, on the precipice of yet another whack of new cards for Hearthstone. Are you dressed and ready for the party? One Night in Karazhan kicks off this week!
Let's celebrate! Grab a drink, get your boogie on, and get ready for One Night in Karazhan! This all-new adventure will be available on August 11 and includes:

A free Prologue mission for you to explore which unlocks two brand new cards.
Journey up four unforgettable wings of the Karazhan tower fighting twelve funky bosses and completing nine new class challenges.
Completing One Night in Karazhan will unlock 45 all-new Hearthstone cards for your collection.
The grooviest new game board you've seen arrives to let you strut your card-playing stuff.
Will you survive the challenging Heroic mode for each wing?
45 new cards? Interesting! I wonder what they all look like? I thought you'd never ask…
They all look excellent to some degree, except for perhaps that one priest card – Purify. Look, I'm no Hearthstone pro, but even I fail to understand how that card is any good. It's been received rather poorly by the community already (via TouchArcade), leading Blizzard to make the following response on Reddit:
Card designs have a number of different goals, sometimes those goals are immediate competitive play and sometimes they shoot for something else. Things like flavor, arena viability, or sprinkling in tools for a new or existing archetype. In smaller sets, it can be a little risky to take a gamble on a new toolkit because there are fewer cards to work with. In the case of Priest, we were pretty happy with the amount of options the class was getting from neutral (Barnes, Curator*, Medivh, Dragon Cards) to do some testing with a new archetype that Purify could be a part of.

In my mind there is some positive to the outcry over Purify because I think people will definitely try it out and report any successes/failures/stories they had building and playing a 'silence your own stuff' priest. None of this is to say anyone is wrong in their feedback, but just to communicate some of the ideas surrounding a card design. Hearthstone is important to all of us, and we're trying to do better in terms of communication and understanding what different communities (like this one) are most interested in.
Yeah, I still don't get it. Maybe Purify would be better if it cost just 1 mana? Or better if it silenced an enemy minion instead, but at a cost of 3 or something? I don't know. I'm sure Bizzard will make changes accordingly (if necessary) over the coming weeks though.
Regardless, I'm dressed and ready to party. What about you? Will you be joining in on the One Night at Karazhan festivities?
Last Updated: August 10, 2016