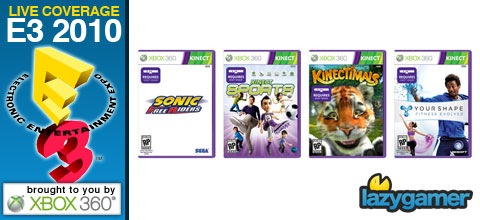 So Microsoft's E3 keynote has come and gone – and with it all the news about Kinect you can shake a stick at.
After the jump you'll find the list of all 15 launch games – and then feel saddened by the fact that all 15 appear to be casual stuff for the general Wii audience.  You'll also notice that Kinect games feature new box art and branding – and for the first time ever, Xbox games won't be shipping in their green boxes, instead being a lovely shade of purple for games that require Kinect.
Kinect Adventures (Microsoft Game Studios)
Kinectimals (Frontier Studio/Microsoft Game Studios)
Kinect Joy Ride (Big Park/Microsoft Game Studios)
Kinect Sports (Rare/Microsoft Game Studios)
Dance Central (MTV Games)
Your Shape: Fitness Evolved (Ubisoft)
EA Sports Active 2 (EA)
Deca Sports Freedom (Hudson)
Dance Masters (Konami)
Adrenalin Misfits (Konami)
Zumba Fitness (Majesco)
Sonic Free Riders (Sega)
The Biggest Loser: Ultimate Workout (THQ)
Motion Sports (Ubisoft)
Game Party: In Motion (Warner Bros.)
See what's missing from that list? Games of substance. The launch titles comprise of 2 dance titles, 2 kart racing games, 4 fitness games, 4 sports games and the rest of them – barring Kinectimals – being mini game collections. It's the Wii all over again!
I had high hopes for Natal/Kinect – and some of them are being realised in the interaction with the Xbox for uses other than gaming. As far as games go though, there hasn't been a single thing shown that quells my fears of Kinect being made to appease the casual market. I'll admit though that Kinectimals and Dance Central look like they make exceptional use of the technology – and will keep the kids in my home very, very busy.
Kinect launches in the US on November 4 – with a wider release to follow shortly.
Last Updated: June 15, 2010