By Paul Davies
Unless you're a petrol-head, this stunt-riding super-sequel may have sneaked under your early-2019 radar. Allow us to rev the engines a little, to make sure we have your attention.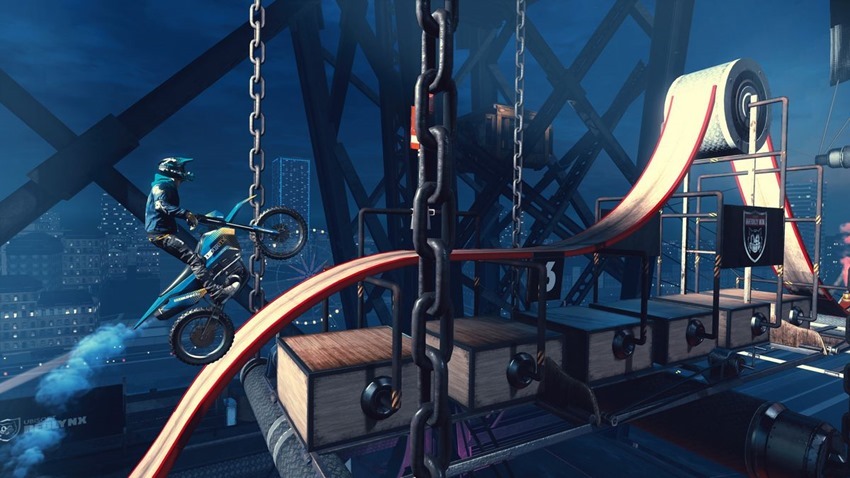 There's a reason that this RedLynx/Ubisoft series has been with us for so many years (20 if you include the original Java version). Basically it's fun. We could've said flat-out fun, but there's much more finesse to the experience than that, as players soon discover. Just like learning to ride a real bike, the basics of Trials never truly leave you. But as the series has evolved, the gameplay has become ever more nuanced, and now it's time for more people to explore the many ways that flipping two-wheeled rides around like a fool can be so very fulfilling. One stand-out way is the introduction of the Tandem bike, so let's start with that!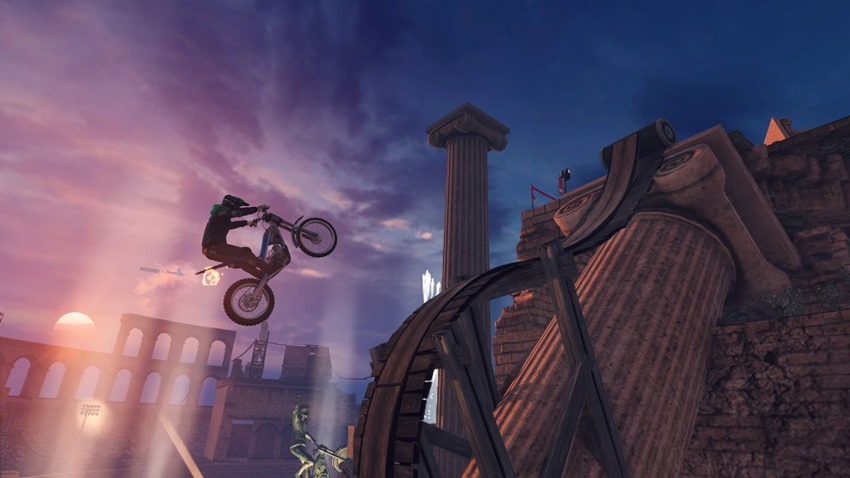 In case you're wondering what a Tandem is, essentially this is a bike operated by two riders, and has two sets of handlebars, two throttles (in this case) and very much at the mercy of two riders' weight distribution. There's clearly a humorous intention with the Tandem from RedLynx, mischievously presenting buddies with an initially impossible proposition that only improves when two-man teams start communicating. From that point onward, as found out from our hands-on time recently at Ubisoft, the ultimate achievement is to form an almost telepathic bond with your cohort, keeping as much wanton craziness in check as possible.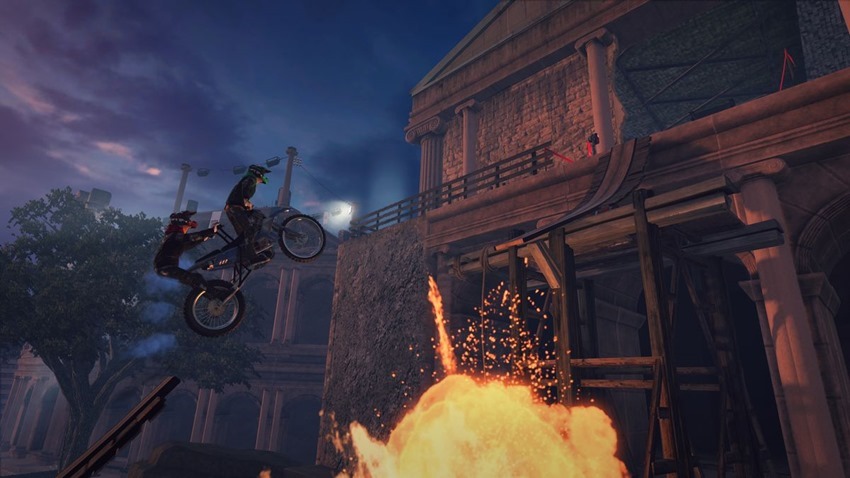 The hilarity that ensues while enduring the countless failed attempts is stabilised by such a feeling of satisfaction of a plan well-executed should players choose to aim high. It's one of the best examples we can give you of how much Trials has progressed for Trials Rising, and makes it an ideal entry into the Nintendo Switch library of attractive, family-oriented titles.
Certainly, physically sitting next to your accomplice while sharing Switch in handheld mode enhances the enjoyment. Elsewhere, however, Trials Rising embraces much more modern features, akin to the stuff that's popularised everything from World of Warcraft to Fortnite.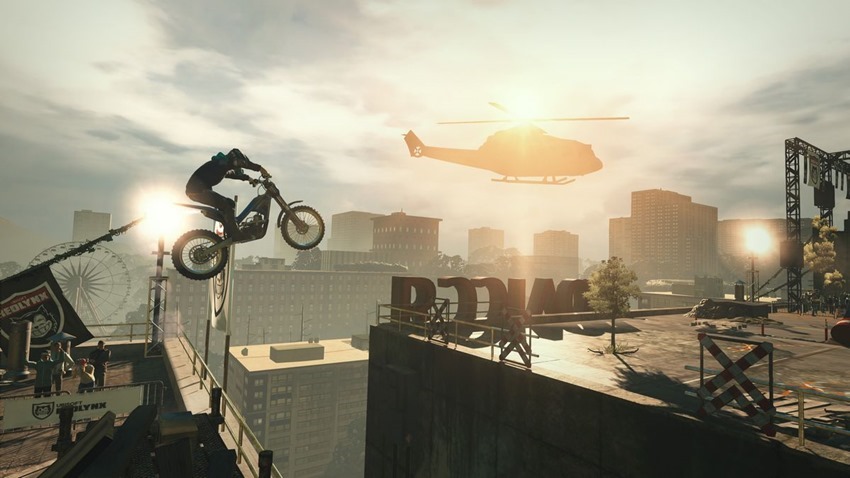 Let's start with personalisation. Trials has been commended for its extensive Track Editor in the past, and this mode is enhanced as expected – over 8000 individual components with which to build the tracks of your dreams and/or nightmares. In addition to this, Trials Rising now allows players to finesse the look of bikes and riders with myriad logos and decals that are acquired through loot crates as the game progresses. There are said to be 1000s of such cosmetic items to distinguish your avatar from the rest of the online Trials community, plus poses and, yes, dance moves to stand out in the lobby areas. Dabbing is popular, be warned.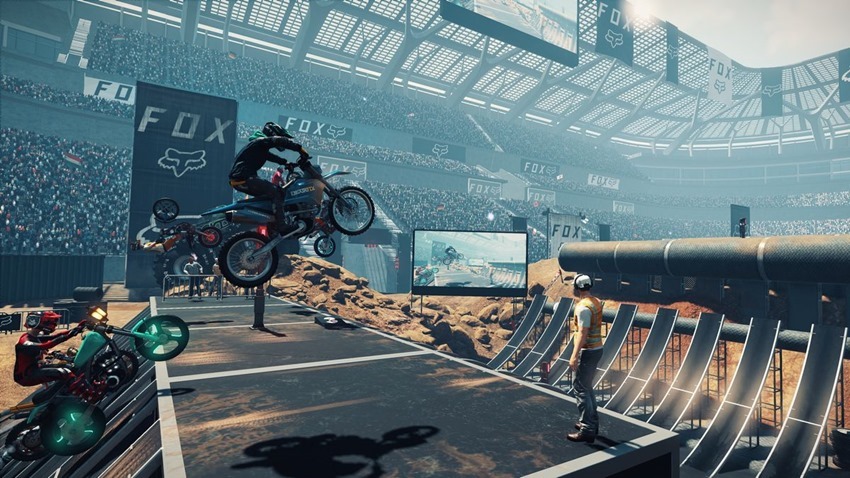 The biggest, most game-changing design focus in Rising is the move from menu- to map-driven navigation. Similar to the changes made to The Crew 2 in 2018, Trials in 2019 has become an open-world adventure of sorts. Various Leagues control regions of the world, staging major tournaments in stadiums for players to vanquish before moving on and up. Among the races available that are marked on the map, there are Sponsor challenges too, designed to push riders out of their comfort zone just enough to gain a wider understanding of how the pro-riders blaze such spectacular trails. The intention from RedLynx is for most players to enjoy the full range of stunts, even if only at the basic (Bronze) difficulty level. Also, navigation via a map, with easily-identifiable locations, is so much more intuitive than wading through a menu, in which case it's hard to see beyond lists of names and trophies.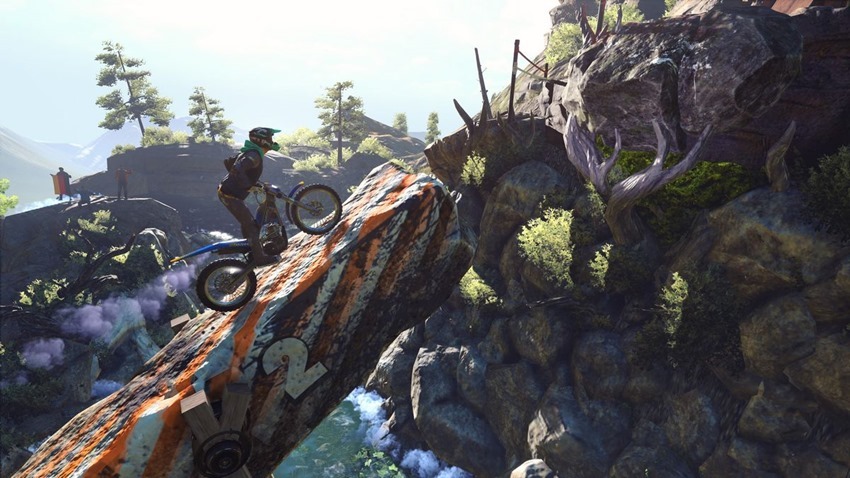 There are 120 tracks in total being fine-tuned for when Trials Rising releases on 12 February. Our hands-on session reassured us that the core gameplay mechanics are as sharp as ever, and we're keen to hop back onto the bikes that include Squid (beginner), Rhino (advanced), Mantis (insane), Helium (BMX), and the return of the tiny Donkey. The game looks amazing, its slick 60fps presentation consistent across all versions, and this performance also allows for global Leaderboards. You may just want to see your pretty name up there in lights…
Last Updated: January 22, 2019