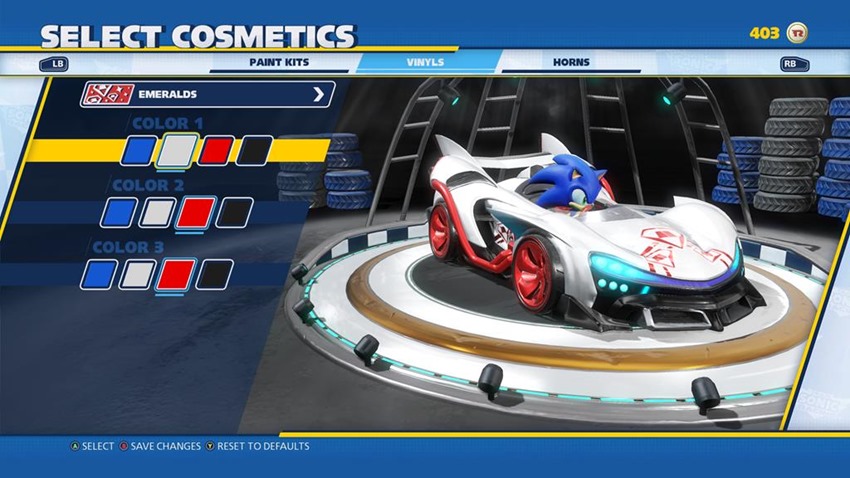 WHAT YEAR IS IT? With Crash Team Racing making a comeback, it looks like 2019 may just shape up to be the year of the kart racer as a certain other blue-spiked hair hero from yesteryear aims to go fast and then some when he hits the track. While Nintendo may have cornered the market and established itself as the premiere franchise featuring tiny chassis, even tinier wheels and plenty of speed, SEGA's take on the genre has always been a fantastic burst of speed that could put Mario and banana-chucking antics to shame.
Sonic & All-Stars Racing Transformed was released back in 2012, and it's still a damn good game. This year sees a newer version of Sonic hit the tracks, in the form of Team Sonic Racing. SEGA had plenty to show off at SXSW, which may just be one of the weirdest venues ever for video game news…or the cleverest. Well played SEGA, well played. Here's a look at the customisation features of Team Sonic Racing, which will allow players to slap on all manner of vanity options onto their hot rod:
And here's a bunch of new screenshots!
There's a nice mix between cosmetic and actual performance with the various options available in Sonic's garage, which range from cool to downing an entire bottle of Victorian England era absinthe wacky. Neat. Beyond that, SEGA also had a few other announcements up their sleeve. A new Sonic the Hedgehog mainline game is indeed on the way according to Sonic Team boss Takashi Iizuka, while the panel ended with some delightful animation:
All eyes are on Team Sonic Racing though, which will hit the track on May 21 for Nintendo Switch, PS4, PC and Xbox One. Also fun fact, Sonic was voiced by Steve "Did I do thaaaaaaaaat" Urkel back in the 1990s and now you'll never look at your favourite slice of Saturday morning nostalgia the same way ever again.
Last Updated: March 18, 2019