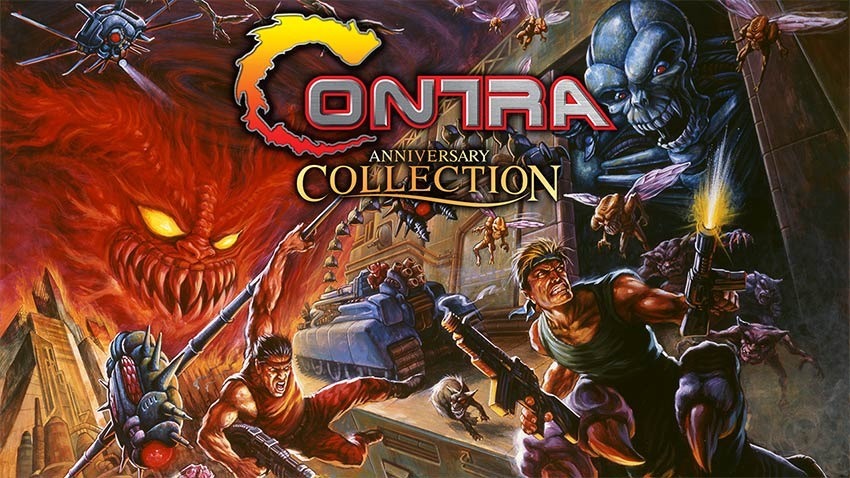 While Konami's not really make much of import for new systems, they're plumbing the depths of their back catalogue, releasing nostalgic collections of their older games – to varying degrees of success. While the recent Konami Arcade Classics collections is a middling assortment of poorly ported games, the Castlevania collections is a much better release, filled with interesting and unique games, including the first official English release of Castlevania spin-off, Kid Dracula. It also includes Castlevania the Adventure, but not everything can be perfect.
For those who aren't into whips and chains and prefer guns, there's an impending collection of games from the revered Contra series coming too. The Contra Anniversary Collection is on the way, and now we know exactly which games will be included in the package. There are several unique games, as well as a handful of regional variations, which change the game somewhat.
As for the unique titles, you've got the superior arcade versions of both Contra and Super Contra, plus the NES versions of Contra of Super C. You've then got the Gameboy's Operation C and the fantastic 16-bit entries, Contra III; Alien Wars from the SNES, and the Genesis' Contra: Hard Corps.
The Japanese version of the NES original will also be included, which made some noteworthy improvements to the original release. It included a map, made some graphics improvements and storyline sequences. Two other regional variants dip into PAL territory, with the Mega Drive port Probotector, and the SNES version of Contra 3, Super Probotector: Alien Rebels. Because of European laws around violence at the time (part of why we had Teenage Mutant Hero Turtles instead of ninjas), characters and enemies were replaced with robots.
To Sum:
Contra (Arcade)
Contra (NES)
Contra (Famicom)
Super Contra (Arcade)
Super C (NES)
Contra III: The Alien Wars (SNES)
Super Probotector: Alien Rebels (Mega Drive)
Contra: Hard Corps (Sega Genesis)
Probotector (Sega Mega Drive)
Operation C (Game Boy)
BUT WAIT! THERE'S MORE!
The package will also receive a free update, adding six more Japanese variants to the mix.
Contra (Arcade)
Super Contra: Alien No Gyakushu (Super Contra)
Super Contra (Super C)
Contra Spirits (Contra III: The Alien Wars)
Contra (Operation C)
Contra: The Hard Corps (Contra: Hard Corps)
In all, it means 16 Contra games which is a nice collection of shooters. The big omission – and it's a sad one because the game's been overlooked, is the DS-exclusives Contra 4. It's probably my favourite Contra game, but its exclusion makes sense because of the DS's dual screens.
Anyway, it's a decent collection if you're a Contra fan. What do you think?
Last Updated: May 29, 2019