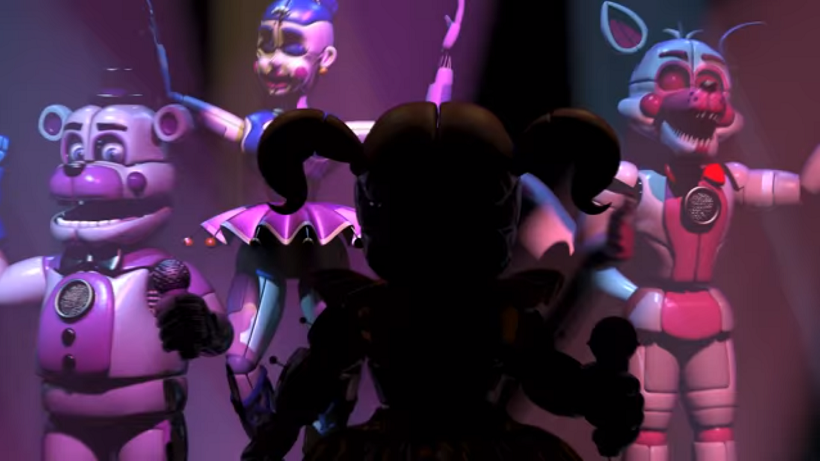 Around a month ago, whispers of a there being a new Five Nights at Freddy's reached my ears. Sure, the news might have been nothing more than an announcement, coupled with a teaser image, but did it stop me from going straight into the foetal position? Nope! My body was, and still is not ready for the latest instalment in the horror franchise, Sister Location.
Now, after seeing the game's first trailer (via PC Gamer), I'm all but certain I should leave the country. Why? Because I know you sickos are going to get me to play it!
Quite frankly, I choose life! Seriously, what normal human being (aka YOU) would subject another (aka ME) to this?
Oh goodie. Looks like there are familiar faces, and some new ones. Hell, it even looks like there might be some new gameplay mechanics that extend beyond checking cameras or passageways.
You know what made this trailer extra terrifying though? The fact that this happened…
So my PC froze around halfway through the new Five Nights at Freddy's Sister Location trailer … O_O pic.twitter.com/FoQkcgyns7

— Matthew Figueira (@MatthewFig) May 24, 2016
What. The. Hell?
Anyways, I know there's no way around it – I'm going to have play Sister Location, aren't I? How long do I have to live?
According to the trailer, it'll be out around "this Fall", which in South African time, points to a release period sometime around September and beyond. Hey, that's more than enough time to tell my loved ones that I'll miss them so!
Truth be told, as much as I don't want to play Sister Location, I am genuinely curious about the lore behind it. Scott Cawthon really has put together a mysterious story that many have spent countless hours poring over. I'm interested to know how this game ties into all of that.
Last Updated: May 24, 2016