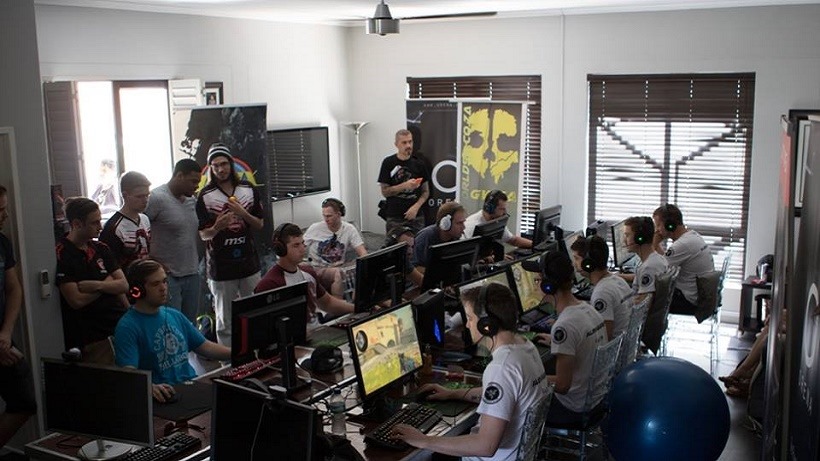 This weekend South Africa saw its first ever "Homestory Cup" where four of South Africa's top CS:GO teams were invited to Luca "RoBoHoBo" Tucconi's apartment to play in the GWZA Century Cup. Aperture Gaming, Bravado Gaming, CarboN eSports and Energy eSports all gathered on Valentine's weekend to play for R30 000 and Plantronics headsets.
Unforeseen technical issues led to a late start, but once the action kicked off, viewers were treated to some fantastic CS:GO throughout the day. In case you were unable to catch the stream over the weekend I'll summarize the action as best as I can.
Winner Bracket Game 1 – Bravado Gaming vs. CarboN eSports
This match was our first glimpse of the newly formed CarboN eSports team, comprised of a few veteran players and new talent in the CS:GO scene. The most notable addition to the CarboN lineup was Call of Duty defector Jandre "Makmur" Van Vuuren who cemented his decision to change titles with a fantastic debut weekend.
Map 1 – Cobblestone
What we saw in map one was an adjusting Bravado team as their practice in the weeks prior to the competition were plagued by internet issues which hindered proper preparation. CarboN punished them for this in the early stages of the map as they remained neck and neck with Bravado Gaming. Bravado soon began to pull away on the Terrorist side as the B-bombsite became a slight issue for CarboN eSports. Bravado capitalized on this and pulled ahead achieving a 9-6 finish.
CarboN bounced back in the second half winning the pistol in a 1v1 between KGS and Sonic. They evened out the scores at 9-9 and again Bravado looked a bit shaky in their opening map. CarboN managed to take the first gun round and unfortunately that is as far as they got. Bravado found their feet and put up a sturdy defense as Deviant, the Bravado veteran, had a fantastic map and our very first ace of the tournament. The game ended with a Bravado victory 16-10 and it was on to map two, Cache.
Map 2 – Cache
Once again Bravado seemed to struggle as they were awarded the Terrorist side after winning the first map. Traditionally some would argue Cache is a rather CT-sided map in South Africa, and CarboN capitalized on this and for the first few rounds it was the KGS show. After an incredible four player kill from KGS, it seemed as if CarboN were off to a great start. Bravado Gaming managed to pull it back once CarboN had secured 6 rounds. The half time score was as expected for Cache as Bravado managed to pull it back to 8-7 for a half time finish.
Bravado now went on to the CT round and managed to take the pistol and the 2 succeeding rounds. Once again CarboN were able to secure the first gun round as Terrorist, and then it fell into the hands of Makmur to tie up the scores when he found himself in a 1v3 clutch and only managed to take down two Bravado players before being shut down by Sonic. Bravado Gaming immediately pulled ahead and CarboN were only able to secure one more round before being knocked down to the loser bracket with a 16-10 finish by Bravado.
Winner Bracket Game 2 – Aperture Gaming vs. Energy eSports
The Century Cup was an important tournament for Energy eSports. Being the only team at the tournament not currently in the masters, Energy eSports had to retain their current position as the second, if not best, team in the country. Their first game was against Aperture Gaming, currently ranked third – and with this new lineup it was shaping up to be an incredible match.
Map 1 – Mirage
Energy eSports elected to start on the Terrorist side and it soon became clear why as their tactical executions on bombsites were near perfect. As opposed to Bravado Gaming's relatively shaky start it seemed as if Energy came ready to dominate. Energy did just that, and managed to pull ahead with a substantial lead as a struggling Aperture Gaming were denied at almost every turn. Bomb plant after bomb plant Energy pulled ahead, and Aperture seemed to be struggling to get the important frags, and losing duels on every successive peak. Energy's OJ (Nefan) had a fantastic game getting one entry frag after the next and needless to say Energy ran away with the game winning the first map 16-6.
Map 2 – Inferno
After their struggling performance on Mirage, and Energy's clear dominance many suspected Inferno would be another run over for Energy. Inferno has long been one of Energy's strongest maps, but boy were we wrong. Aperture started on the Counter-Terrorist side and after losing  the pistol to smart play by Zeo, it seemed as if we were going to see a repeat from game one. The game was a lot closer than most expected as Aperture put up a strong defense on the CT side. Hackem was undoubtedly the star of the show, denying Energy entrance to the A-bombsite at every turn and mastering the art of the retake. Similarly on the B-bombsite, Domster shut down Energy and CarboN were able to achieve a 9-6 finish on their CT side. Noting that Inferno is rather CT sided, many thought Energy had secured enough rounds to bring it home, but whatever was said between matches in the Aperture cloakroom became apparent in the second half.
Energy managed to secure the pistol round once again, but in true Energy fashion they underestimated the forced eco buy from Aperture, and lost out in round two. On the back of Hackem, Aperture held Energy at 7 rounds as they hit the "homestretch" score of 14 before Energy grabbed their second round. In a complete turn of events Aperture Gaming breached near perfectly, aided by the struggling Energy eSports team who just could not find the duels they needed. Aperture Gaming took the map 16-8 and we had our first map 3 of the day.
Map 3 – Train
Everything we thought we knew about Energy eSports was now irrelevant. After a near perfect performance on Mirage, they struggled against a strong Aperture side on Inferno. Energy fans were not too worried as the next map was Train, and again many felt Energy had the upper hand on a map they'd dominated on before. Once again we were wrong…
Now that Energy had received a rude wake up call on Inferno, they had to lock it down to secure the series. Aperture had a new-found momentum and were not about to start letting up against Energy. Energy managed to take the first two rounds before Aperture won the third on an early buy. From then the scores were neck and neck as Energy and Aperture traded round after round. Once the scores were tied up at 5-5 Energy dug deep and seemingly pulled themselves together to build a substantial lead and end the half at 9-6. This was an okay finish for Energy on the CT side, but next up they had to try mimic their earlier performance as Terrorists and land those perfect executions.
Once again it was Hackem and Domster who shone above the rest and it became clear that there were problems in the Energy camp. Energy eSports went for the fast play on the B-bombsite and secured the plant. After a successful retake Takbok was left in a 1v3 to try and clutch the round. He managed to take down two Aperture players while they diverted his attention away from the bomb diffuser. Unfortunately time was against him and Aperture Gaming got the diffuse despite Takbok's best efforts. Aperture Gaming went on to win the next two rounds tying the score up at 9-9, and the pressure was now on. The two teams continued trading round after round until Aperture Gaming managed to pull ahead with a strong hold as the CT side. Energy eSports found themselves broke at 12-15 and it now became clear that the favourites to win the tournament may be finding themselves in the lower bracket sooner than expected. Their force buy and A-site breach on the final round was not enough as Aperture Gaming cut them down and took the series 2-1.
Loser Bracket Round 1– CarboN eSports vs. Energy eSports
The loser bracket round 1 meant we were about to send a team home, and once again the odds favoured Energy eSports as they met the newly formed CarboN. Unfortunately the first map, Mirage, is not available yet on YouTube. The game will be added and updated as soon as possible.
Map 2 – Cobblestone
Energy eSports lost their opening map on Mirage, a map they seemed to be more than capable of dominating considering their earlier performance. However, the second map was Cobblestone, a map which once again was one of Energy's favourites. This series was the Fadey show as CarboN allowed the youngster to run amuck wreaking havoc at every corner. Fadey, being one of the youngest players in the competitive scene, has a unique ability to switch between passive and aggressive playstyles, something older players struggle to shut down in the most crucial moments. With tons of pressure on both teams – neither wanting to go home – the rounds were tight and both teams traded as the game progressed. Energy managed to pull ahead in the later stages of the half, on the CT side, to secure a 9-6 finish which was almost expected on Cobblestone.
In the second half the teams once again traded round by round. The game was tighter than most expected and CarboN managed to keep up as the Terrorist side. Energy reached their penultimate round, 15-12, but CarboN were not going to give up that easily. Nerves ran high when CarboN managed to bring it back to 15-14, but Energy prevailed and took this tight game and tied the score up at 1-1
Map 3 – Inferno
Energy, now understandably suffering from some sort of PTSD, went on to face CarboN eSports on Inferno. CarboN selected the CT and planned to shut Energy down at every turn. Again the rounds were extremely tight. CarboN managed to pull ahead and secure a 9-6 finish on the CT side, and having 6 rounds as Terrorist seemed as if Energy might just be able to pull through in the end.
Naturally Energy won the pistol round and succeeded in tying the scores up at 9-9. Again we were able to enjoy an extremely tight game between these two teams, as neither wanted to be the first team to go home. CarboN managed to pull ahead by 3 rounds until Energy to sneak one in. The score was sitting at 14-11 in favor of CarboN with Makmur and Fadey having a great series so far. It became obvious that players on Energy were struggling to find their earlier form. Energy found themselves broken and beaten at 15-11 and it now became clear that Energy were about to exit the competition early. It came down to a 1v4 for T.c and unfortunately he was not able to retake the site and CarboN eSports knocked Energy out of the Century Cup.
Winner Bracket Final – Bravado Gaming vs. Aperture Gaming
The final game for Saturday evening was between Bravado Gaming and Aperture Gaming to see who would advance to the Grand Final with a one game advantage. Bravado had now had a full day to check out the competition, and similarly for Aperture, both teams were rested and ready to play their final game of the day.
Map 1 – Inferno
Aperture Gaming kicked off the first map winning the pistol round, giving them a kick start to the series. Bravado, playing on CT, pulled ahead after the strong duo of Detrony and Deviant on the A-bombsite denied Aperture access round after round. Aperture did however managed to sneak some fantastic rounds in and got a favourable 9-6 finish against South Africa's strongest Inferno team.
The second half Bravado Gaming pulled ahead, landing on a score of 13-7 before Aperture were able to get a round. At 14-8 Aperture were able to secure two more rounds before the Bravado assault, with great entry frags and executions, awarded them a 16-12 finish.
Map 2 – Cache
Aperture Gaming put up a great fight on Inferno, and for map two we expected nothing less. Unfortunately for Aperture, Bravado wanted to end things early and they blasted to an 11-1 lead on the Terrorist side before Aperture Gaming were able to secure a round. Aperture found sound footing in between the relentless Bravado assault and secured 3 more rounds ending in 11-4.
The second half Aperture managed to put a strong assault, but the already momentum filled Bravado Gaming team were not about to stop as the held their own on both bombsites. Aperture were able to get 3 more rounds before Bravado ended it off 16-7 dropping Aperture Gaming to the lower bracket Final where they would meet CarboN eSports.
Loser Bracket Final – Aperture Gaming vs. CarboN eSports
Map 1 – Mirage
CarboN eSports started their Final campaign on the CT side of Mirage. CarboN started off strong as they secured the pistol and first gun round building a lead of 4-0. They continued their impenetrable defense going as far as 7-0 before Aperture Gaming were able to secure a round. CarboN seemed on top as they ended the CT half with a favourable score of 11-4, setting themselves up for a fantastic Terrorist side on Mirage.
Aperture Gaming now had a steep hill to climb in order to even out the scores, but luckily they had the CT safety net and ace shooters to keep things in check. CarboN managed to secure the pistol round but fell short to a forced eco by Aperture Gaming and we finally had a game on our hands. Aperture Gaming slowly mounted a great comeback only allowing CarboN one more round with Kanibalistic having a much better game on the Sunday compared to his performance on Saturday. Aperture Gaming took the game 16-13 after one of the biggest comebacks we had seen the whole weekend.
Map 2 – Cache
Cache was a much tighter map with all things considered. The losing team here would place third and essentially get nothing. The teams traded round for round in one of the closest maps we'd seen the whole weekend. CarboN were in fact slight favourites going in to the series, and rightfully so they put up a great fight to stay in the series. Aperture Gaming pulled away in the first half on the Terrorist side and secured a 10-5 finish, incredibly favourable for the Terrorist side. It was now on to the defense, and they'd built up enough of a lead and the confidence which goes with it.
Aperture managed to secure three more rounds in the second half before CarboN mounted an amazing comeback. Sitting at 10-14 CarboN now had to dig deep to bring it back. They managed to get as far as 13 rounds, but Aperture Gaming put up their walls and denied CarboN just three more rounds to secure their spot in the Grand Final with a finish of 16-13.
Grand Final – Aperture Gaming vs. Bravado Gaming
Map 1 – Inferno
Bravado Gaming found themselves in another Grand Final, this time meeting new opponents Aperture Gaming. Inferno was the first map, where Aperture had seen success over the weekend. Rightfully so Aperture Gaming remained neck and neck with Bravado Gaming trading round for round, and eventually winning the first half 8-7 on the Terrorist side.
Again the second half was neck and neck but Bravado Gaming managed to pull ahead with Detrony reminding everyone that he can still top score despite being surrounded by some of the best CS:GO players in the country. Bravado locked Aperture at 12 where they found themselves in an economic crunch on the final round. Bravado took the map 16-12 and it was on to our favourite map, Dust 2.
Map 2 – Dust 2
This was the Golz show for the final map. It seemed as if Golz had taken a more passive seat at this LAN for Bravado Gaming as he did what was necessary in the previous matches. On Dust 2, however, Bravado Gaming released their bloodhound and he did what he does best – frag everything. Bravado Gaming secured a 5-0 lead on the Terrorist side, expected for Dust 2, before Aperture Gaming found their feet and responded to the obvious onslaught approaching. Bravado took the first half 10-5, and now it was Aperture's turn to assault the men in blue.
Aperture Gaming managed to secure the pistol round, but their attempts were thwarted as Bravado took them to town with pistols in the second round. The Bravado Defense was unfortunately too strong for Aperture as they struggled to get the remaining rounds allow Bravado to put up an impressive lead. Being on match point Aperture secured one more round before Bravado delivered the final blow ending the map, series and tournament 16-9.

Bravado were awarded their first victory of 2016, but from what we saw this weekend I don't doubt that it won't be their last.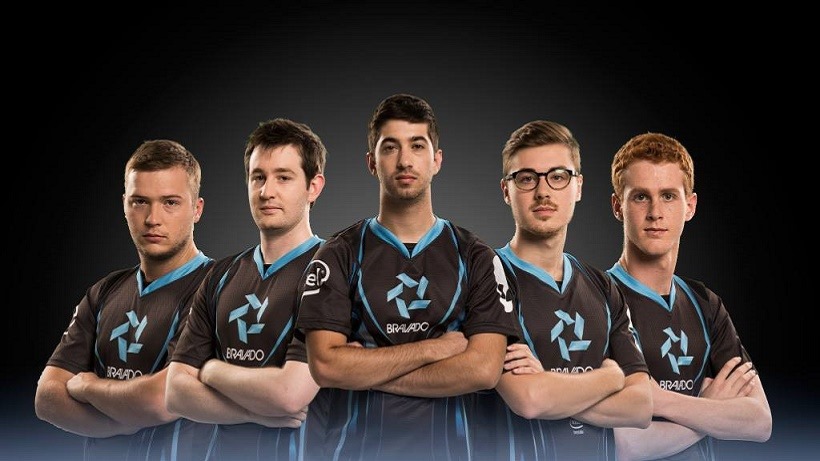 Images courtesy of Bravado Gaming
Last Updated: February 16, 2016