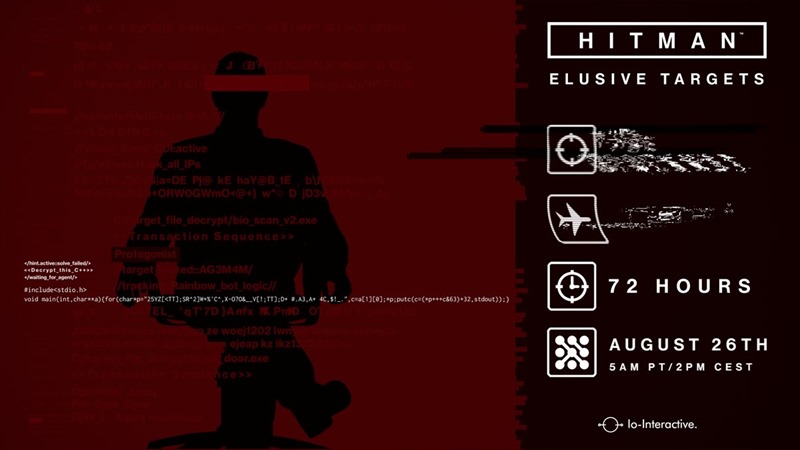 I think by now, Hitman's latest level has been cracked open. Every floor of the Himmapan Hotel explored, the gardens trampled over and at least one instance of an out of control rock star paying for the sin of having a man bun by being choked to death on his own vegan cake. It truly is a fun and gorgeous new level to potter around in.
And it's also going to be home to an Elusive Target in the near future. Hitman's greatest (and craziest when dealing with Gary Busey) challenge, Elusive Targets aren't a walk in the park to deal with. They require patience, timing and some intel. Something that could be in short supply with the next mark, according to IO Interactive.
<Elusive_Target/9 arrives on 2016.08.26th & you'll have 1 chance to eliminate the target_file_decrypt>
C:/Good.Luck pic.twitter.com/qXLsjeyn2f

— HITMAN (@Hitman) August 22, 2016
Well that's more cryptic than Bigfoot. Looks like we're going to be dealing with a hacker, maybe one of those damn kids from that movie that starred Angelina Jolie. Maybe. probably not. Anyway, Elusive Targets have been a fair bit harder to tackle as of late. I should know, as I've managed to cock the last two of them up, royally.
This all ties into comments that lead online designer Torben Ellert made to GameSpot a while back, saying that "Yes, they're tense, because if you screw up, you're finished."
But they're totally doable. I think we need to keep that for the next couple, but as we go down the line, we will improve on their perceptiveness, where it makes narrative sense.
All I know is, is that I'm damn happy that I'll have an explosive smartphone to make use of with this next target. Episode 4 of Hitman is out right now, and according to one handsome bastard who reviewed it and is of a height that is considered normal by today's standards, it's one of the best designed levels yet in this episodic series.
Last Updated: August 23, 2016