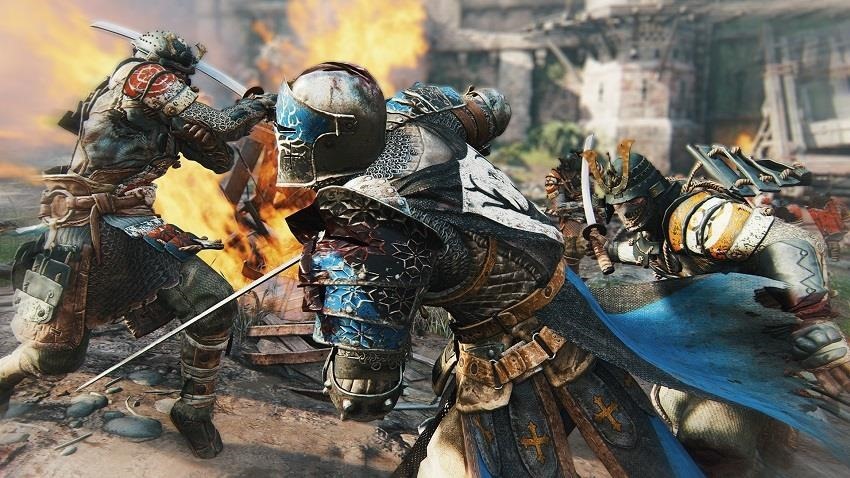 For Honor, the cross-era action swordplay thing that's cooking up at Ubisoft, is finally getting the public test it needs just before launch. Opting instead for a limited closed beta, For Honor will kick off a weekend of multiplayer testing at the end of the month, starting on January 26th and running until the 29th.
You'll need to sign-up and hope for a code of course, which you can do right after watching this slightly moving cinematic trailer for the beta which manages to actually spell "Honour" correctly in its included subtitles. Weird.
The For Honor beta will be across all three platforms, and included a small meta-game running in the background called War of the Factions. If you haven't been keeping up, players will be able to choose from characters across the Vikings, Medieval and Samurai eras of combat, which War of the Factions will track and keep tallies of. At the end of the beta the Faction with the most victories will even some exclusive in-game items for the full release, which is just a nice incentive to stick to your favourites.
For Honor's multiplayer is also the main reason I'm so excited for the title, after it grabbed my attention back at E3 2015 when it was revealed. The multiplayer follows a really tense ebb and flow of power, with players controlling burly warriors who can slice through computer controlled "creeps" like a hot knife through butter. It's battles against other players that are more nerve-wracking, with you having to choose between three poses with lighting fast reflexes to parry, block and inflict damage on your opponent – like a high-stakes game of rock, paper, scissors. It's rather exhilarating when all put together.
For Honor is out next month across all three major platforms, and is just the next in line for Ubisoft's more ambitious experiments with game genres.
Last Updated: January 11, 2017