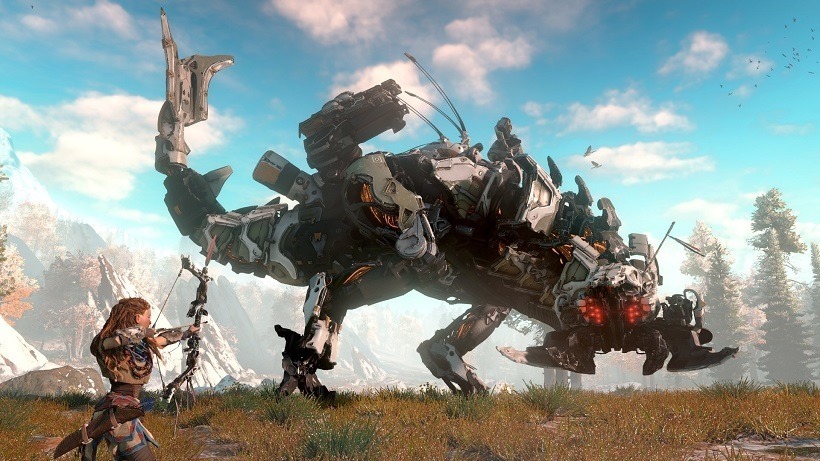 In amongst all the stellar announcements Sony had during their press conference at E3 last year, Horizon: Zero Dawn was the one that stood out the most for me. A brand new open-world IP from the developers who set visual standards with the Killzone franchise, Guerrilla Game wowed attendees with a stunning demo featured red-haired heroine Aloy – and her unique brand of robot animal ass kicking.
Horizon: Zero Dawn takes place in another version of our future that is a little less grey and drab, but still filled to the brim with danger. Humanity has fallen, and in its place robotic recreations of once existing wildlife has taken its place. Tribes roam the lands hunting these creatures for resources, with a clear mix of old and new weaponry. Aloy, one of the most adept in her tribe, is looking for more answers, as the new trailer below teases.
Beyond the cryptic titbits of story dripping from the scenery, Horizon: Zero Dawn looks as visually striking as it did a year ago. Colour is burst at the seams here, but it's somehow still taking a backseat to the incredible enemy designs Aloy finds herself going toe to toe with. The way each of the robotic creatures moves and sounds sells this idea of an AI controlled ecosystem, and it's a world that is just inviting you to get lost in it.
Although with that comes the bitter (although expected) disappointment of a delay, if such things still sting you deep down. Horizon is now only making it to market on February 28th of next year (or March 3rd for us locally), which leaves Sony's end of the year exclusive line-up wafer thin ahead of E3. There's nothing wrong with Guerrilla Games needing more time though, so hopefully there's no repeat of what poor Sean Murray had to endure last week.
Horizon: Zero Dawn is coming exclusively to PS4, and we should see a lot more of it very soon.
Last Updated: June 7, 2016