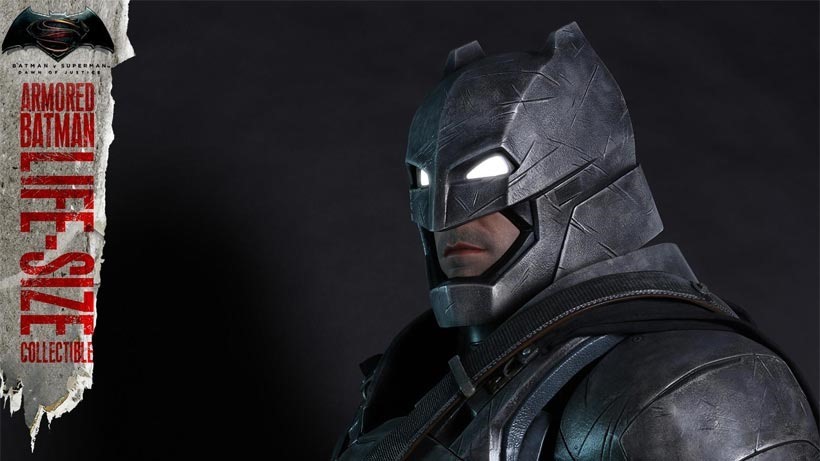 I'm madly in love with Ben Affleck's Batman costume. It looks like it was torn straight out of the comics, and has an almost mythical quality to it. It genuinely looks frightening, because can you imagine running into a burly billionaire who decides to work off his mental issues on your face while dressed like that? Terrifying stuff.
Likewise with the suit of armour that Batfleck will don when he goes toe to toe with Superman. It's another fantastically realised comic book homage, one straight from The Dark Knight Returns. I like it so much in fact, that I've actually pre-ordered the sixth scale replica of it, and prepared myself for a few months of finding out how nutritious cardboard really is. Because there's not a chance in hell that I'll have space for an even bigger replica.
Yes, that's an honest-to-Grodd full-scale replica of Batfleck, that clocks in at a height of 2.2 meters, base included. According to Hot Toys, this lifesize replica features:
Authentic and detailed likeness of Armoured Batman in Batman v Superman: Dawn of Justice
Armoured Batman head with light-up eyes (white light, power cord/plug in)
Movie-accurate facial expression of Batman with detailed skin and stubble texture
Approximately 1.95m/6.4ft tall (Approx. 2.2m/7.2ft tall with base)
Meticulously sculpted replica of the Batsuit and armour
Black coloured fabric cape
Specially designed circular base with light-up function and Batman v Superman: Dawn of Justice movie logo (white light, power cord/plug in)
All I know is, is that I can cut an entry port round the back and finally climb inside of Batman. Wait, that sounds weird. There's no actual price on this statue yet, but I imagine the shipping alone would require the kind of budget that most small African nations run on. I think I'll stick with my sixth-scale replica, thanks. At least we're the same size.
Last Updated: February 2, 2016