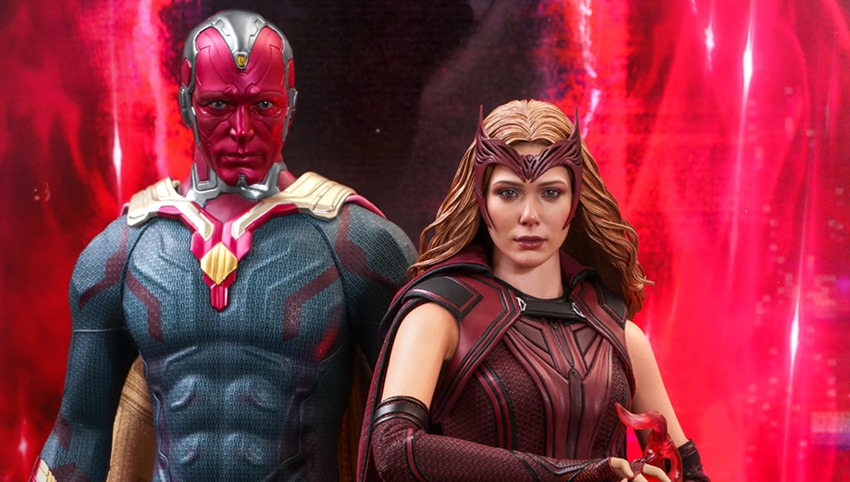 WandaVision may have just wrapped up a nine-episode run for its single glorious season, but the ramifications from that show will be felt for years to come. From intriguing teases towards a spookier side of the Marvel Universe being explored to Wanda Maximoff embracing her role as the almighty Scarlet Witch, people are going to be talking about that show for a good long while yet.
And buying plenty of its merchandise for good measure.
Speaking of which, here's the latest reveal from Hot Toys! Wanda in all of her arcane anarchy glory and her loving Synthezoid husdband Vision have been given the sixth-scale treatment, and as always the end result looks stunning. Wanda has more natural sculpted hair as opposed to her Age of Ultron figure which kind of looked like a very expensive Barbie doll, while Vision looks as noble as ever in his latest but familiar appearance.
Check 'em out below:
Hot Toys WandaVision Scarlet Witch
Beautifully crafted based on the appearance of Elizabeth Olsen as Scarlet Witch in WandaVision, the figure features a newly developed head sculpt with specially applied luminous reflective effect on eyes to emulate Scarlet Witch using her abilities, long curly sculpted hair and her signature headdress, a newly designed body equipped with LED light-up function on both sides of the forearms, detailed outfit including the hooded cape, specially created hands with red translucent fingertips, Darkhold book, power-using effect accessories, and a dynamic figure base for display.
Hot Toys WandaVision Vision
Meticulously crafted based on the screen appearance of Vision in WandaVision series, the figure features an impressive head sculpt and the Mind Stone with stunning details reflecting the android's mechanical features, a highly-poseable specialized body, skillfully tailored outfit with cape attached, several interchangeable hands, a specially designed figure stand and a themed backdrop to recreate the scene.
Scarlet Witch will set you back $275, while Vision will phase through your wallet to grab $250. Both figures will arrive next year between July and September.
Last Updated: March 9, 2021