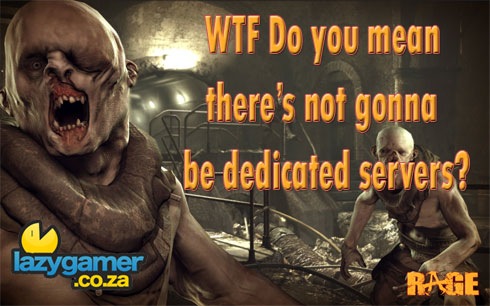 Hello PC gamers. How are you today, on this lovely day? Are you still seething from the Modern Warfare 2 dedicated server debacle? If you've managed to calm down a bit, I'm afraid I may have some news that'll get your tempers flaring again.
id's John Carmack has incited gamer rage by saying that the company doesn't have plans to support a dedicated servers for their upcoming game, the now aptly titled Rage. "It's not cast in stone yet, but at this point no, we don't think we will have dedicated servers," he says. "The great thing." he said, taking a stab at Activision, "is we won't have to be a pioneer on that…We'll see how it works out for everyone else."
This is ,of course, a worrying trend for PC gamers. If developers keep moving towards console-centric means of play, what's the point of even playing on a PC?
Thankfully DICE have pledged to continue supporting dedicated servers with their upcoming Battlefield Bad Company 2, so that's something. I guess.
Source : VG247
Last Updated: November 6, 2009