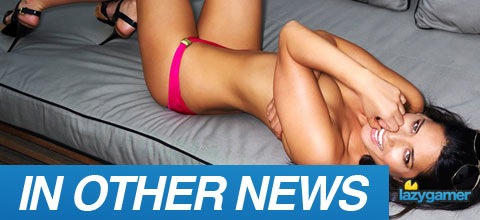 First G4TV's Olivia Munn landed herself a small role in Iron Man 2, and now it looks like she has just been picked up to be on The Daily Show. A shining beacon for girl gamers no doubt and not such a bad choice for a header image either (although there are some haters, link below).
Today's other news involves demos, terrible Indian movies with Ezio in them and Mel Gibson losing his pip to Niko from GTA IV.
Here's the news we didn't post because we were trying to find out what time The Daily Show is on.
News:
Kane and Lynch PS3 Plus demo out today
James Bond: Bloodstone will be 5 – 10% driving
Final Fantasy Legends: Warriors of Light and Darkness – first details
Arkham Asylum "Detective Vision" was a mistake
Twisted Metal nearly post apocalyptic
Huge Dragon Age PC patch today
Stuff:
6 game heroes that are actually huge douche bags
FAIL: World's worst video game controller
Polarising figure: Olivia Munn
Videos:
Terrible Indian movie copies Assassin's Creed
Mel Gibson calls Niko Bellic (NSFW)
Hey Ash, Watcha Playin' : Gears of War Gay Gaze
Last Updated: July 19, 2010