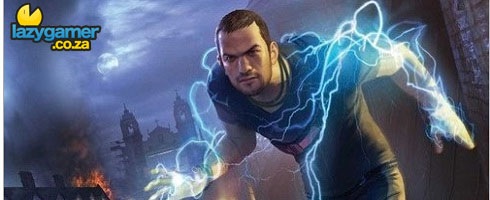 The latest issue of GameInformer has spilled its guts, revealing a whole bunch of details of the recently outed inFamous 2. The first game, featuring the rather electric protagonist was a bit of a flawed gem, and I hope the sequel fixes the many minor annoyances found in the original.
Some are already bemoaning the changes, the first of which is aesthetic. Cole has been redesigned for the sequel, apparently to make him "more appealing, more compelling main character." A lot of people are complaining that what they've done is make him even more generic. Still, with the announced changes I'm really looking forward to the sequel, especially the fact that Zeke – as useful as a one-legged man at an arse kicking – is going to be a little more helpful this time 'round.
Here's what's new:
Cole hasn't aged either way, instead he is simply re-designed.
Cole's voiced by a new voice actor.
Cole will be spending his time in the game becoming a "super-super hero" in order to be able to beat the beast, this will involve him will be ramping up his power from the last game.
There are now real cut-scenes as well as the traditional comic strip narrative.
You wont just jump up buildings but will construct ways to make it up buildings using objects.
There will be some new powers outside of electricity but Cole will still be the electric super hero.
Melee weapons feature.
Zeke is more helpful.
More people, cars and generally more happening in the game.
Source : Playstation informer
Last Updated: June 7, 2010