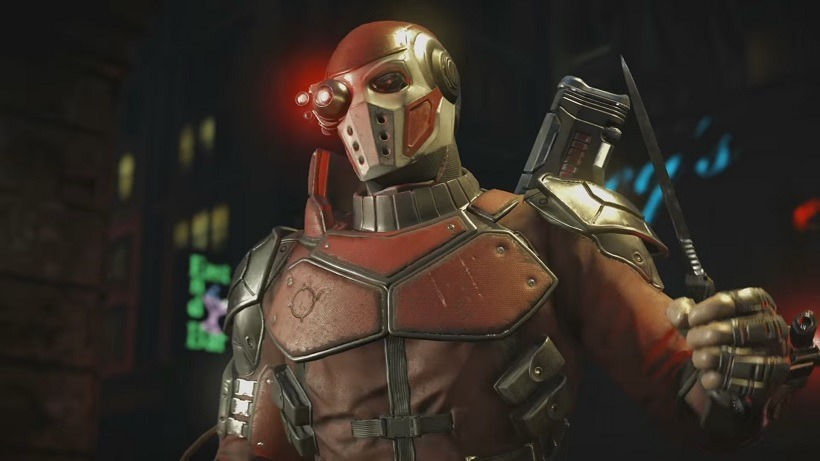 Suicide Squad is, disappointingly, not a great film. It's got a meandering plot, odd character choices and even worse dialogue. Two of the film's most redeeming qualities, however, come in the form of Margot Robbie's Harley Quinn and Will Smith's Deadshot – two characters with a lot of chemistry between them and their own standout moments amongst a sea of misery. So it makes sense for Injustice 2 to leverage both of them, as they're added to the fighting roster.
Joining the likes of Grodd, Batman, The Flash and more, Harley Quinn and Deadshot will bring their own brands of melee fighting to the fray when the game launches next year. Harley retains some of the design elements seen in the film (like those painted dipped ponytails), but reveals more comic book aspects to her attack repertoire. She's able to use baseball bats, a large comical hammer and dual pistols to great effect in up close engagements, taking on a more bruiser style of play instead of zoning.
Deadshot is almost entirely different. Aside from an incredible design (did someone say Deathstroke?), Deadshot makes use of a knife in close-quarters and more explosive wrist-mounted guns to deliver some big damage and create some space. From here, it's about bouncing some bullets and using his tools of trade to keep your opponent at bay and in the air as long as possible. He looks particularly fun to play as too, tapping into the style of play I usually like to experiment with before getting my ass handed to me anyway in most fighting titles.
Injustice 2 will, of course, be adding a host of new features to the fighting formula, including a new loot system that will let you customise each character a little more to your play style. As the roster grows the potential for unique combinations does too, which makes for an interesting story to follow into the new year when Injustice 2 hits Xbox One, PS4 and PC.
Last Updated: August 17, 2016