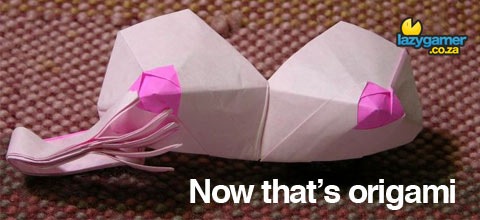 We here at Lazygamer absolutely love installing games on our consoles (*rolls D20 + 4 to his "talkin-absolute-BS" skill).
Yeah ok so we really don't. Installs aren't that bad really, but they still feel like they go against the concept of what console gaming was always meant to be: sit down, play game. Some companies actually realise that sitting installing your game isn't as much fun as playing the game, and actually do something about it.
Quantic Dream, the developers of Heavy Rain, is one of those companies.
While installing a game is usually an exciting affair, Quantic Dream have devised a nifty little way to keep you busy during the games' required install. While most installs involve coffee making, bathroom visits and fridge raiding, Heavy Rain wants you in front of your PS3.
You get to learn how to do some origami. The process is done in twelve easy steps on the screen and by the time the 4.6GB install is done, you will have learnt something new. Sweet.
Now, what I think would have been really cool is if they included a piece of paper with markings on in the box and actually had you sit and make your own little Heavy Rain promo item to keep on your display long after the game is done.
That would have been awesome.
Source: JustPushStart via VG247
Last Updated: February 3, 2010