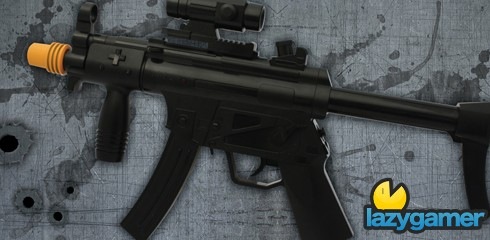 I just received a press release from Innex about the future of gaming accessories that I can see at E3 this year, the future is apparently a hyper realistic machine gun for the Wii?
Well the bright orange barrel is a bit of a give away but the rest of the gun is apparently modelled on the Heckler & Koch's MP5 submachine gun and as silly as it sounds I bet I would really enjoy using this thing in an on rails FPS on the Wii.
It's the second thing that came to my mind after the Wii was first announced and to be honest I am surprised it has taken so long before it ever made the light of day.
Unlike most other peripherals you don't slot your Wii controller into this thing but rather it contains it's own Wii controller and nunchuck functions in the unit along with rumble and a speaker, it's also USB chargeable.
I'm looking at my E3 schedule now and unfortunately I don't think I am going to get time to get around to the booth to try this baby out but if it arrived at a store near me I may well be tempted to buy it… if there was a game it was awesome on.
Last Updated: June 8, 2010