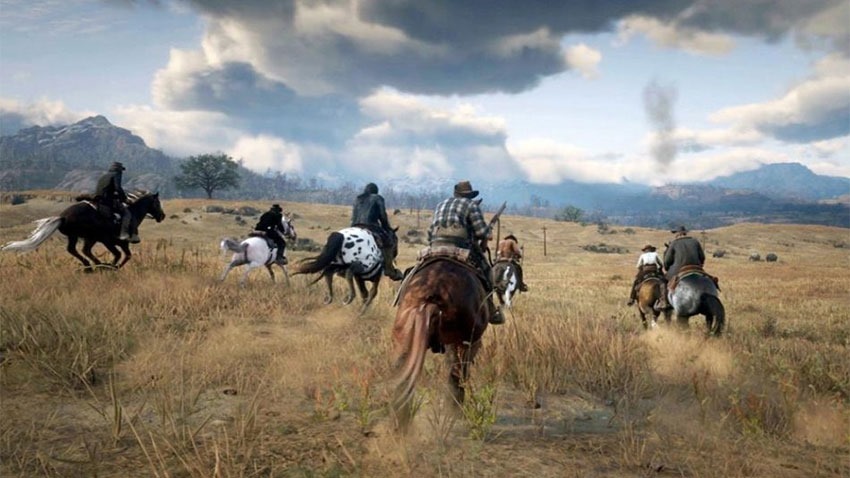 Today, Red Dead Redemption II's online portion starts rolling out. It'll go live in waves, depending on the edition players bought and when they started playing. It's launching in beta, which means that its modes are subject to change, and the whole experience could also be best with bugs and glitches.
Here's all that Rockstar has said about the experience:
"With the gameplay of Red Dead Redemption 2 as its foundation, Red Dead Online transforms the vast and deeply detailed landscapes, cities, towns, and habitats of Red Dead Redemption 2 into a new, living online world ready to be shared by multiple players. Create and customize your character, tailor your abilities to suit your play style, and head out into a new frontier full of things to experience.

Explore this huge world solo or with friends. Form or join a posse to ride with up to seven players; gather around the fire at your camp; head out hunting or fishing; visit bustling towns; battle enemy gangs and attack their hideouts; hunt for treasure; take on missions and interact with familiar characters from across the five states; or fight against other outlaws in both spontaneous skirmishes and pitched set-piece battles; compete with other players or whole posses in open world challenges and much more."
Now it looks like we know a little more, thanks to a twitter user who appears to have unearthed the game's playlists and online jobs.
RDR2 Rockstar playlists #RDR2 #RDR2Online pic.twitter.com/PDgE3LB2Zh

— illogical Mods (@illogicalMods) November 26, 2018
The most interesting mode in the list is called Make It Count. It's a last-man-standing game where 32 players face off against each other as the play area shrinks. If that sounds awfully like a Battle Royale, that's because that's precisely what it is. This lines up quite nicely with the Trusted Reviews leak earlier this year that outed the game's multiplayer along with a treasure trove of information.
That's the same leak that unfortunately saw Take Two's lawyers get involved, with the site being forced to cough up a million Pounds. Red Dead is of course not the first AAA retail game to include a Battle Royale mode. Call of Duty: Black Ops has one (it's very good!) and Battlefield V will launch its own BR mode in March next year.
Last Updated: November 27, 2018