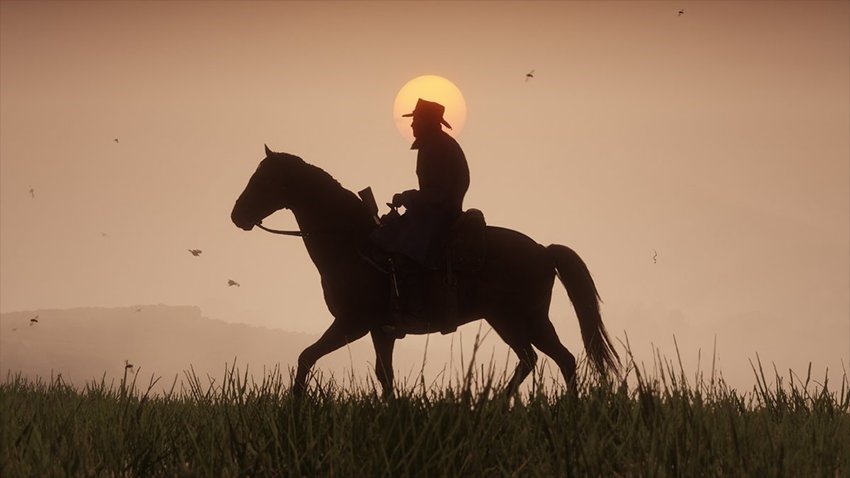 Red Dead Redemption may or may not be coming this year. Officially, it's been delayed until October this year – but this is Rockstar, and it's entirely possible that we'll only be seeing the game in 2019.
And according a wealth of possibly leaked info from Trusted Reviews, we have a vague idea of what we might be doing in it. It's important to note that this is all rumour, based on a bunch of info that was sent to the publication last year. They opted not to publish any of it because they couldn't corroborate it – but the recent Red Dead Redemption 2 trailer contained imagery that seems to confirm many of its details.
One of the biggest bits of info to come out of the apparent leak is that the game will feature Battle Royale', 'Revive and Survive' and 'Money Grab' modes. There's no word on if the Battle Royale mode here will be something akin to what you'd find in games like PUBG or Fortnite, but if it is…well then I'm very much on board.
As for the other modes? According to Trusted Reviews:
"Revive and Survive pits two teams against each other as they try and stay alive. You'll have a limited amount of time to revive your teammates before they are eliminated.

Finally, Money Grab features two teams fighting to procure bags of money in a central location. You're expected to collect and return them to your base as quickly as possible."
Beyond that, the site says, the online mode will follow the template set by GTA Online – though it'll feature a lot more in the way of interaction with NPCs.
As for the single player, they say it will offer more freedom freedom in exploring the open world. Cities, including the likes of Armadillo and Ridgewood – will be alive with NPCs. There will also be a slums market, where gear is sold at reduced prices, which sounds to me like it could be tied into microtransactions, but that's just speculation on my part. The leak also suggests that you'll be able to use trains to travel on the map, and that the trains themselves act as mini-cities with their own activities and characters.
They also say that – as we saw in the PC and new-gen console rereleases of GTA V – that the single and multiplayer bits can be played in first person mode. Yes, Dead Eye returns as well. Much everything else seems par for the course, really. You can read the details at Trusted Reviews.
Last Updated: February 6, 2018