For the last week or so the wife and I have been working through It Takes Two and in the process it has earned itself a spot on my list of truly special games.
The games on my list may not always be game of the year contenders and even include a few relics of the past such as such as Quake, Gears of War, Super Mario Galaxy, and Overwatch, but other titles such as Spec Ops: The Line get on the list for their uniqueness and incredible storytelling more than their actual gameplay experience.
It Takes Two falls somewhere in the middle really. The gameplay mechanics are polished and competent, while the story is decent and engaging, but it's the idea and implementation of a romantic cooperative game that really makes it stand out as something special.
So what's the game about?
It Takes Two follows the story of May and Cody, who as the parents of Rose have decided that they are no longer happy together as a couple and are planning to divorce. May is a high-flying engineer with a stressful and successful career while Cody is a stay-at-home dad who is keeping the home going while raising their daughter.
As a couple, you let Rose know your plans about the impending divorce and she then runs off and wishes on a love book that she purchased that you won't get divorced. Wham bam, thank you ma'am, and then suddenly find out that both May and Cody have been transformed transformed into dolls. From then on you need to work together to complete a gauntlet of puzzles to get back to Rose and try to get transformed back into humans so that you can get divorced and move on with your lives.
And obviously each of the puzzles can't be solved on your lonesome. As the game's title says, It Takes Two.
The Puzzles
It Takes Two very much lives and dies by its puzzles and thankfully that is something that developer  Hazelight Studios really did get right. Each one feels unique and challenging, but not insurmountable.
It always feels like there are new and fresh gameplay mechanics to discover, with both characters having an equal impact on the stage. More importantly it's not only the gameplay mechanics that change but also the style of the puzzles. My wife and I are polar opposites and it has been incredible to see that our input on solving these puzzles has been close to 50/50 with each of us using our individual strengths to see solutions.
Which has led to us having many conversations over drinks about certain puzzles and aspects of the game which naturally end up with us discussing how we use our different skills in our day-to-day lives, whether it's relating to parenting, work, or emotional intimacy.
In short, we've found It Takes Two to be an amazing way to bond even more, and after being married for 20 years that really does say a lot.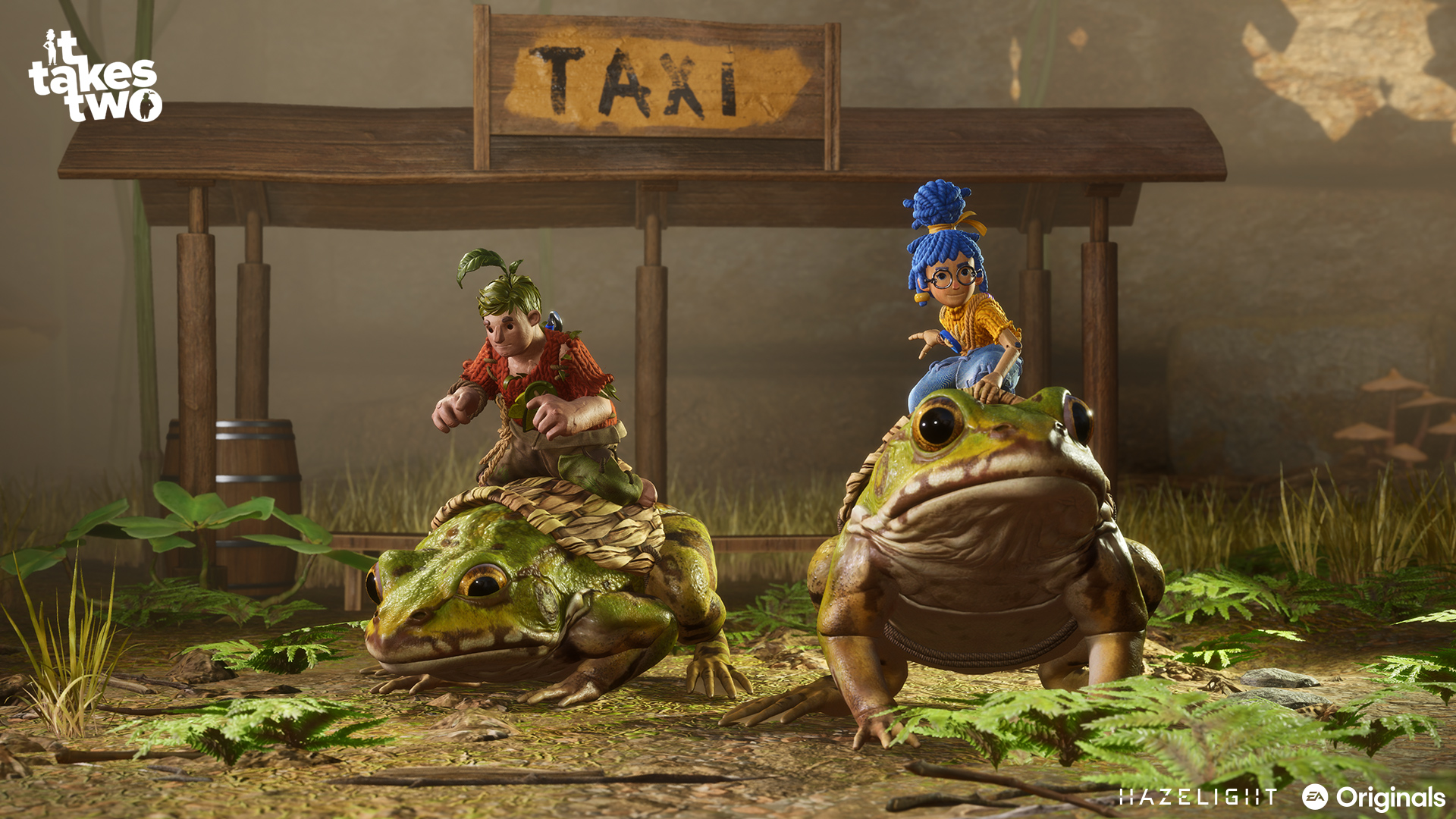 So it's all good?
No… so far I've had nothing but good things to say about the game but it's by no means a perfect title.
The camera can be difficult to control, it's all too common that you end up wedged in a corner, and the screen sometimes just goes blank or a jump you know you made just misses the mark. But it's all forgivable and by no means something that ruins the experience.
The one thing I'd like them to patch though are the mini-games and challenges scattered throughout the game. Whether it's playing whack-a-mole, tank warfare, or camera snapshots, the result is always the same… you wish they didn't exist. Seriously I just wish they'd patch the entire mini-game debacle out of It Takes Two. It's not fun and always feels like a chore but thankfully they are few and far apart.
My wife found May's nagging a bit much for her liking, even getting to the point of telling her to shut up. "I'm trying my best!" she yelled at the pixels on the screen. Meanwhile, I found the clearly reversed stereotypes to be a little over-pushed at times.
Conclusion
It Takes Two is literally a game for couples, and while two friends could play together, you'll definitely get more out of the game if you are playing it with someone you have an intimate relationship with (or would like to have).
It's an interactive story adventure that I highly recommend and while it done-in-one shelf life of around 10 hours (or 18 if you aren't the best gamer in the world such as my wife) it's fairly priced. If you have a partner then you owe it to yourself and them to give it a go.
Also keep an eye out for some truly amazing pop culture references which are scattered throughout the game. I think the Street Fighter sequence on top of the underpants airplane is probably my highlight… but it's a close call.
Last Updated: April 7, 2021
It Takes Two

It Takes Two is a fantastic co-op adventure designed from the ground up for couples. The puzzles are incredibly well engineered, the story is engaging, and the artwork is gorgeous.

It Takes Two was reviewed on PlayStation 4
Some of our articles may include links to purchase products from third party suppliers which we may get a small commission from.