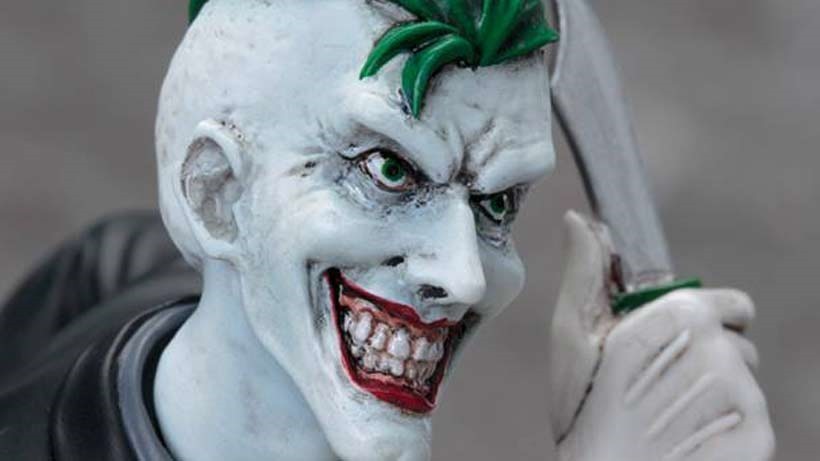 You think of the Joker, and you naturally think of the classic clown prince of crime. A theatrical criminal mastermind who serves as the perfect foil to the dark knight. The other side of a Gotham coin that buys terror from its citizens, albeit with a deathly grin that rigor mortis preserves for the most awkward of funerals.
But there's a lot more to the Joker than just a few acid-squirting flowers and a distinctive laugh. Over the years, he's been reimagined as a foe with a surprisingly adaptable persona that is always changing. There's the classic Joker who terrorised Gotham with poisoned grinning fish, the narcissistic attention-seeker who wanted to hog the light of the Bat-signal.
Over the years, he became darker and even more unhinged. And then there's the version that popped up in the New 52 Batman comics. A Joker who was done playing games with the caped crusader, and has decided to move on. A simple outfit, and a trendy haircut that masks the mind of a true maniac who wants to kill everything around him, and so with a smile on his face. Now that's a  frightening Joker, and one that Kotobukiya has decided to immortalise:
Here's the full description from Kotobukiya:
A KOTOBUKIYA Japanese import! Kotobukiya's lineup of statues based on the superheroes and villains of DC Comics continues to grow with the addition of one of the greatest comic book villains ever, the JOKER! Capturing the character's iconic look from the New 52, Joker arrives to torment the previously released series of "Batman Family" heroes like Batman, Batgirl, Nightwing, Robin, and Red Hood.

The Caped Crusader's archenemy first appeared in comics way back in 1940 and got a very interesting update in the New 52 with a startling appearance and wicked plans for Batman and his allies. Now the Joker is back and more evil than ever in this highly detailed 1/10 scale statue!

There's no mistaking the gleeful insanity of the Joker and he shows it off as he leans forward, taunting the Batman with weapons in hand. The psychotic villain wears a snappy black suit with shiny black shoes, a dark gray shirt, black tie, and white gloves. His clothing shifts and creases in his exaggerated pose revealing a slim build and gangly limbs. Joker's bleached white head is accented by his shockingly green hair and the horrific grin on his face with its beady eyes and mouthful of teeth. The Clown Prince of Crime brandishes a knife in front of him while hiding a pistol behind him.

Joker stands just over 7 inches tall (1/10 scale) and like all ARTFX+ statues he has magnets in his feet for extra stability on his included display base. Bring this New 52 villain home for some crazy antics and the perfect contrast to your Batman Family ARTFX+ Statues!
Joker is out in August, but there's no cash-number attached to ace of knaves just yet.
Last Updated: February 17, 2016