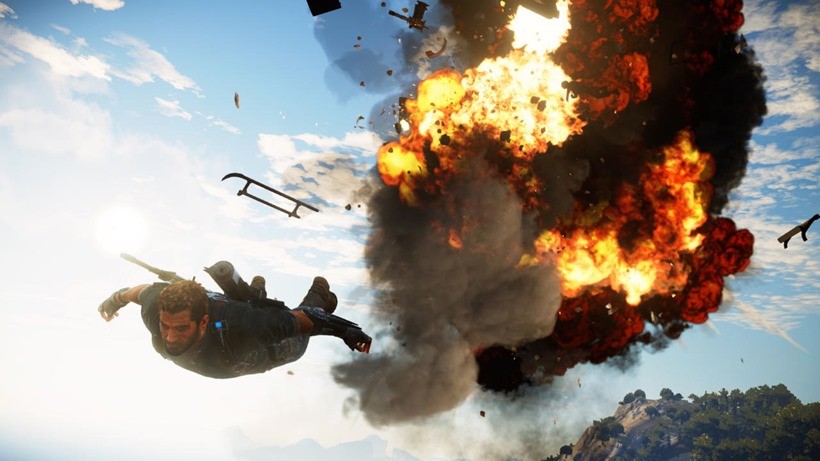 Video games have the potential to tell stories that can easily rival any blockbuster film or book. The tools available to developers, to create worlds where the player interacts with and shapes the story, are numerous and powerful. As a storytelling medium, the surface has barely been scraped so far. But personally, I'm interested in none of that because I have the attention span of a Mayfly on crack.
I've got a case of the Decembers, and like the softest metal around me once said, I feel like I have a need to break stuff. While everyone is raving on about Fallout 4, it's Just Cause 3 that I want. It's the kind of sandbox that my addled mind appreciates, a world that is just begging for explosions and grappling hooks.
It's also part of a series that has never really prided itself on telling a story that didn't set up a reason for explosions. But in Just Cause 3, it looks like CIA agent Rico Rodriguez will be more than just an Al Pacino lookalike, as his past is revealed. Explosively, I'd assume.
"We started thinking, 'how do we tell a little more about who Rico is?'", Avalanche Studios game director Roland Lesterlin said to Stevivor at PAX Australia.
One of the things that helps identify a character is knowing where they come from, so to learn who Rico was and why he became this awesome Latino action hero. Rico was actually born in Mexico, and when he was a little kid he moved with his parents to Medici where he grew up. When he was in his late teens, Di Ravello, the dictator, took power and there was a military coup one night.

Rico was smuggled out of the island to survive and that's where he met Sheldon and ended up doing San Esperito in Just Cause 1 and Panau in Just Cause 2.Over this time he learned the tools of the trade and became a dictator removal specialist. So Rico finally has all these great tools and now he's going back to the place where he grew up

So Rico finally has all these great tools and now he's going back to the place where he grew up that started it all for him. So in doing this we have a bunch of characters that knew Rico from when he was a little kid and they don't treat him like a big action hero, much like how your friends might treat you in real-life.

We also have new characters that come in, and for the first time it's not just about destroying everything, well, yes, it is about destroying everything, but Rico actually cares about what happens to this place after the dictator is deposed. So over the course of events you'll meet characters that help set the stage for the transition of the island of Medici into what it's going to become.
LIES. I only care about the Baysplosions. And possibly the impact that my wilful destruction has on the environment around me. Actually no, just give me more TNT. There's more in the original link, about the single-player focus and drawing in new fans. Good stuff, it is. Just Cause 3 is out next month, and until then I'll just sit here and make 'splosion sounds.
Last Updated: November 16, 2015