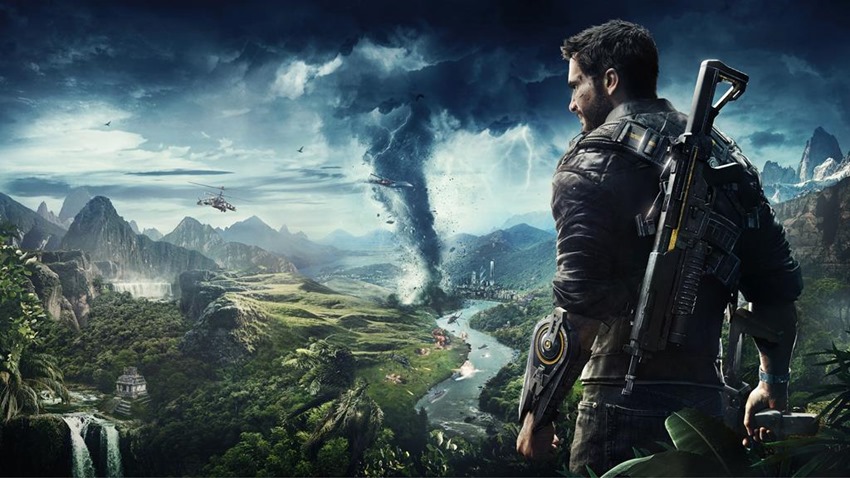 I've got two words for you: Christmas catharsis. Come the silly season, I'm not looking for games that urge me to ponder about the nature of man or some other philosophical rumination. Jingle balls to that, I want something to help unwind and relax. A game that goes for the lowest hanging fruit on a tree and gives me a release valve for the sheer horror of having to brave a shopping mall filled with nothing but barefoot visitors from the north and the terrifying sound of Boney M's Drummer Boy.
Just Cause 4 is probably going to be that game. It's unashamedly built on a foundation of explosions, features the usual open-world glut of activities to engage in and then tosses some TNT at those side-quests. What's really different this time however? The fact that the physics of the sandbox present in Just Cause 4 are now even more ludicrous, thanks to the addition of new tools and an enemy faction that has managed to weaponise the weather itself. Just like COBRA did in GI Joe, I think.
Basically, you're going to need a beefy PC to run the game at its very best. Here's the official list of specs from Square Enix that details just how explosive your hardware needs to be:
Minimum
OS: Windows 7 SP1 with Platform Update for Windows 7 (64-bit versions only)
CPU: Intel Core i5-2400 @ 3.1 GHz | AMD FX-6300 @ 3.5 GHz or better
RAM: 8 GB
Graphics: Nvidia GeForce GTX 760 (2GB VRAM or better) | AMD R9 270 (2GB VRAM or better)
DirectX: DirectX 11.1
HDD/SSD: 59 GB
Recommended
OS: Windows 10 (64-bit versions only)
CPU: Intel Core i7-4770 @ 3.4 GHz | AMD Ryzen 5 1600 @ 3.2 GHz or equivalent
RAM: 16 GB
Graphics: Nvidia GeForce GTX 1070 (6GB VRAM or better) | AMD Vega 56 (6GB VRAM or better)
DirectX: DirectX® 11.1
HDD/SSD: 59 GB
4K
OS: Windows 10 (64-bit Fall Creators update)
CPU: Intel Core i7-7700 (3.6 GHz or higher) | AMD Ryzen 5 1600X (3.6 GHz or higher)
RAM: 16 GB
Graphics: NVIDIA GeForce GTX 1080 Ti
DirectX: DirectX 11
HDD/SSD: TBC
In addition to all that, Just Cause 4 will of course have the standard expansion pass of extra content. The post-launch offerings in Just Cause 3 weren't bad and actually did add some fun new elements to Rico's arsenal, but they also had the unfortunate side effect of completely buggering the game up on a technical level, causing choppy performance and frequent crashes. Hopefully Just Cause 4 has learnt something from that debacle. Here's a taste of the expansion pass offerings that'll arrive in 2019:
Pack 1, Dare Devils, takes racing and destruction to new heights as Rico battles the gangs of the Solís underground in heart stopping death races and rampage rallies.
Pack 2, Demons, Rico faces an ancient demonic force that infests Solís and poses a terrifying threat to its people.
Pack 3, Danger, Rico's former employer mysteriously appears in Solís, bringing advanced technology, secret weapons and specially trained operatives.
Christmas Catharsis arrives on December 4 for PC, PS4 and Xbox. EXPLOSIONS!
Last Updated: November 1, 2018