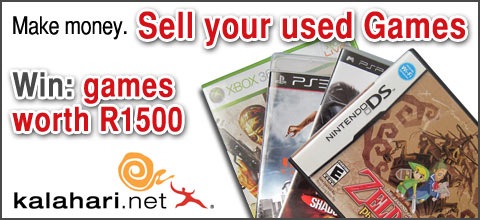 Unfortunately the reality of being a gamer these days means that it's virtually impossible to afford every single brand new title that gets released and as such we have a huge second hand game market in South Africa. But unless you have been living under a rock for the past 1 000 years you would also know that trading games on forums is risky and retailers aren't the most generous institutions when it comes to trading in used games.
But have no fear as kalahari.net has come to the rescue and starting immediately you can now sell new or second hand games directly from their website. What's even better is that they have made this process as simple as possible.
All you need to do is head on over to the new kalahari.net and sign up as a seller, and don't worry if you're not the creative sort as all you need to do is match your product to one in their huge database and the rest of the information will magically appear.
Your games will then show up as a secondary buying option against the new version on the site. A site which just happens to the largest retail site in the country giving you an unprecedented amount of willing buyers at absolutely no cost until August 2010.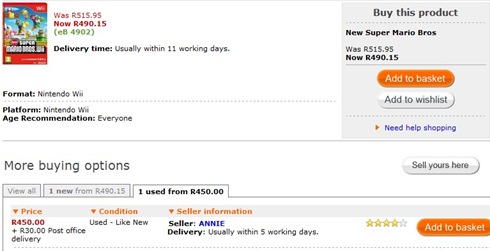 And then comes the magic, the buyer pays you through the standard kalahari.net checkout and you are notified of the great news. You then need to get the game sent out within 48 hours and once the buyer gets the game you get your cash…. it's as easy as that and more importantly it's incredibly safe for the both of you, the fancy word for this sort of thing being Escrow.
So that's it grab your new or used games and list them on the site and then enjoy the simplicity of it all.
And better yet Lazygamer has teamed up with kalahari.net to bring you an even greater reason to sell your second hand games on kalahari.net instead of a forum or classified website. All you need to do is head on over to the kalahari.net and sign up as a seller. Then just enter your email address below and then once verified you will be entered into a Lazygamer exclusive competition to win up to R1500 worth of games of your choice from kalahari.net (R1000 1st prize + R500 2nd prize).
Signing up is free and only take a few minutes so once again it's risk free, seriously why wouldn't you give it a go?
Error: Contact form not found.
This is a paid for advertorial however the opinions provided are entirely my own and were not provided by Kalahari.net
Last Updated: June 29, 2010